Andy Griffith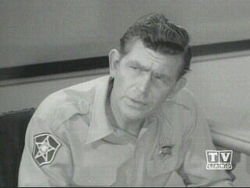 Andy Samuel Griffith (born June 1, 1926) is an American actor, singer, writer and producer from Mount Airy, North Carolina. He is a genuine country boy who made sophisticated humor based on his own background.
He attended the University of North Carolina at Chapel Hill and earned a bachelor's degree in music in. While at UNC, he was president of the UNC Men's Glee Club and was a member of the Alpha Rho Chapter of Phi Mu Alpha Sinfonia, America's oldest fraternity for men in music. After graduation, he taught English at Goldsboro High School, Goldsboro, NC for a few years.
TV legacy
Griffith is best known as "Sheriff Andy Taylor" in the popular 1960s television series The Andy Griffith Show and in the title role in the television series Matlock, which ran from 1986 to 1995.
Comedian to film star
Griffith started out in show business as something of a stand-up comedian, although a better description might be monologist. His first success was a 1953 live recording of "What it was, was football", a story about a country boy at his first football game, delighting in the "big orange drinks" and the boys running up and down the "cow pasture" in "the awfulest fight I have ever seen in my life" and "these purty girls a-wearin' these little-bitty short dresses, and a-dancin' around". Later that year, he recorded "Number One Street", telling the story of a rural family travelling to Florida on United States Highway 1.
By 1954, he was on Broadway, starring in No Time for Sergeants, a play about a country boy in the Air Force, made into a film in 1959, in which he also starred, and which is considered the direct inspiration for Gomer Pyle, U.S.M.C..
Dramatic pinnacle
In 1957, Griffith starred in A Face in the Crowd. Again, he played a country boy, but this time the country boy was a terrifying psychopath who became a television host and used his show as a gateway to political power. This classic film showcased Griffith's powerful talents as a dramatic actor and singer, and also showed early on the power of television upon the masses. (Directed by Elia Kazan, this superbly prescient film was seldom run on television until the 1990s.)
The Andy Griffith Show
The Andy Griffith Show, which aired from 1960 to 1968, became an instant hit with its American audience. Viewers immediately felt a connection with Taylor, his son "Opie" (Ron Howard), "Aunt Bee" (Frances Bavier), Deputy "Barney Fife" (Don Knotts), "Gomer Pyle" (Jim Nabors), Goober Pyle (George Lindsey) and the entire town of "Mayberry".
Matlock and other series
After leaving his still-popular show in 1968, Griffith starred in less successful series such as as The Headmaster (1970), The New Andy Griffith Show (1971), Salvage 1 (1979), and The Yeagers (1980).
He scored another prime-time hit in 1986 with Matlock. Griffith played the title role of Benjamin Matlock, a criminal defense attorney with a Southern drawl, a signature searsucker suit, and an open countenance that belied his sly intelligence, The series ran from from 1986 to 1992 on NBC and from 1992 until 1995 on ABC. Distributed by Viacom it has seen long-running success in syndication.
TV movies
He also starred in many television films such as The Strangers In 7A (1972), Winter Kill (1974) and Pray for the Wildcats (1974). In 1981 Griffith won an Emmy nomination for his role in the TV film Murder In Texas and in 1983 won further acclaim for his role as a homicidal villain in the TV film Murder In Coweta County, co-starring music legend Johnny Cash as the hero. He also had an appearance as the villain in the 1996 movie Spy Hard.
Singing and Recording Career
Griffith sang as part of some of his acting roles, most notably in A Face In The Crowd and on some episodes of The Andy Griffith Show. Within recent years, he has recorded successful albums of classic Christian hymns, for Sparrow Records.
Albums
Pickin' and Grinnin': The Best of Andy Griffith (2005)
Bound for the Promised Land: The Best of Andy Griffith Hymns (2005)
The Christmas Guest (2003)
Absolutely the Best (Remastered) (2002)
Favorite Old Time Songs (2000)
Wit & Wisdom of Andy Griffith (1998)
Just as I Am: 30 Favorite Old Time Hymns (1998)
Sings Favorite Old-Time Songs (1997)
Somebody Bigger Than You and I (1996)
I Love to Tell the Story: 25 Timeless Hymns (1996)
American Originals (1993)
Shouts the Blues and Old Timey Songs (1959)
Honors
He received the Presidential Medal of Freedom on November 9, 2005. A few weeks earlier, he helped preside over the reopening of the Memorial Hall on the UNC-Chapel Hill campus and donated a substantial amount of memorabilia from his career to the university.
Trivia
Griffith may have been an inspiration for the Hanna-Barbera cartoon character Huckleberry Hound, introduced in 1958, although voice actor Daws Butler had employed the same generic "southern drawl" for other cartoon characters starting in the 1940s.
Before The Andy Griffith Show, Griffith appeared as a country sheriff (who was also justice-of-the-peace and editor of the local newspaper) in an episode of The Danny Thomas Show. This episode, in which Thomas's character, Danny Williams was stopped for speeding in the little town of Mayberry, was the inception of Griffith's own show, produced by Sheldon Leonard, who was Thomas's producer.
Griffith was spoofed in a surreal sketch on the Canadian comedy series SCTV. The sketch conflated his Andy Taylor character with the persona of TV talk show host Merv Griffin. In SCTV's version of Mayberry, the sherriff (Rick Moranis) and Floyd the barber (Eugene Levy doing Howard McNear) both exclaimed "ooh!," ultimately in unison.
It is reported that Griffith traveled from his Manteo, North Carolina residence to Los Angeles to visit Don Knotts in the hospital as Knotts succumbed to cancer.
To this day, the town of Mount Airy, Griffith's home town, annually celebrates The Andy Griffith Show. In the town, "Floyd's Barber Shop" is still open and visitors can partake a meal in the Snappy Lunch diner, a place Griffith often visited growing up.
In Episode 2x01 and 2x02 of the TV-sitcom Married...With Children we meet Dumpwater's only celebrity; The Man who met Andy Griffith.
He was born on the same day as Marilyn Monroe.
Home
Griffith lives in Manteo, North Carolina.
Wife: Cindi Griffith (Cindi Knight); married 1983, second wife.
Son: Andrew Samuel Griffith Jr. (aka Sam Griffith), real-estate developer; born 1957; died January 17, 1996
Daughters: Dixie Griffith, Nan Griffith
Notes
2005 Presidential Medal of Freedom recipients.
This article is licensed under the GNU Free Document License
It uses material from the Wikipedia article - Andy Griffith