Bill Monroe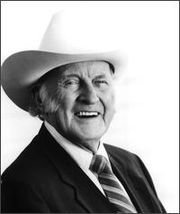 Bill Monroe (September 13, 1911 - September 9, 1996) developed the style of country music known as bluegrass, which takes its name from his band, the "Blue Grass Boys," named for his home state of Kentucky. Monroe's performing career spanned 60 years as a singer, instrumentalist, composer and bandleader. He is often referred to as "the father of bluegrass."
Monroe was born in Rosine, Kentucky. His father was a well-to-do farmer while his mother, nee Malissa Vandiver, was from lower down the social scale. Malissa and her brother, Pendleton "Pen" Vandiver, were both musically inclined, and Bill Monroe learned old-time music from his "Uncle Pen," who was an itinerant fiddler.
Monroe's professional career began in the 1930s when he and his older brothers, Birch and Charlie, began performing as a trio, the Monroe Brothers, at a radio station in South Bend, Indiana near Hammond, Indiana where they worked in an oil refinery. Birch left the music scene early on in the Monroes' career, and the younger two brothers continued to perform as the Monroe Brothers. In 1939, after the brothers parted ways, Monroe formed the first edition of the Blue Grass Boys, and in October of the same year became a regular on the Grand Ole Opry.
As a mandolin player, Monroe brought a virtuosity previously unknown in country music to his instrument. In 1945 he hired Earl Scruggs, who similarly elevated the role of the banjo. This version of the Blue Grass Boys, which also included singer/guitarist Lester Flatt, Chubby Wise on fiddle, and Howard Watts aka "Cedric Rainwater" on bass, made the first recordings that featured all the elements that later came to be known as bluegrass music.
More than 150 musicians played in the Blue Grass Boys over the years. Many later became stars in their own right, including Mac Wiseman, Clyde Moody, Sonny Osborne, Jimmy Martin, Don Reno, David "Stringbean" Akeman, Del McCoury, Vassar Clements, Peter Rowan, Carter Stanley, and Randall Franks.
Bill Monroe was inducted into the Country Music Hall of Fame in 1970, the International Bluegrass Music Hall of Honor as an inaugural inductee in 1991, and the Rock and Roll Hall of Fame (as an "early influence") in 1997. He is the only performer honored in all three. His well-known song "Blue Moon of Kentucky" has been covered by both rock and roll and bluegrass artists.
In 2003, CMT had Bill Monroe ranked #16 on CMT 40 Greatest Men of Country Music.
This article is licensed under the GNU Free Document License
It uses material from the Wikipedia article - Bill Monroe