Bo Diddley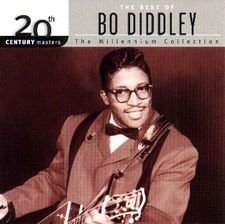 Bo Diddley (born December 30, 1928) "The Originator", is an influential American rock and roll singer, songwriter, and guitarist. He is often cited as a key figure in the transition of blues into rock and roll, by introducing more insistent, driving rhythms and a hard edged guitar sound.
Early life and career
He was born Otha Ellas Bates in McComb, Mississippi and later took the name Ellas McDaniel, after his adoptive mother, Gussie McDaniel. He adopted the stage name Bo Diddley, which is probably a southern black slang phrase meaning "nothing at all", as in "he ain't bo diddley". Another source says it was his nickname as a Golden Gloves boxer. The nickname is also linked to the diddley bow, a one stringed instrument used in the south by mainly black musicians in the fields, although this has been proven false, as his fingers were too big for the slide.
Otha was given a guitar by his sister as a youth, but also took violin lessons. He was inspired to become a musician by seeing John Lee Hooker.
He recorded for Chicago's Chess Records subsidiary label Checker. Diddley is best known for the "Bo Diddley beat", a rhumba-based beat also influenced by what is known as "hambone", a style used by street performers who play out the beat by slapping and patting their arms, legs, chest, and cheeks while chanting rhymes.
The beat has been used by many other artists, notably Johnny Otis on "Willie and the Hand Jive", which is more about hambone than it is a direct copy of Bo Diddley, Bruce Springsteen's "She's the One," U2's "Desire", Guns N' Roses's "Mr. Brownstone" and Buddy Holly's "Not Fade Away" as well as more obscure numbers such as "Callin' All Cows" by the Blues Rockers.
Bo Diddley used a variety of rhythms, however, from straight back beat to pop ballad style, frequently with maracas by Jerome Green. He was also an influential guitar player, with many special effects and other innovations in tone and attack. He also plays the violin, which is featured on his mournful instrumental "The Clock Strikes Twelve".
Rhythm is so important in Bo Diddley's music that harmony is often reduced to a bare simplicity. His songs (for example "Hey Bo Diddley" and "Who Do You Love?") often have no chord changes; that is, the musicians play the same chord throughout the piece, so that excitement is created by the rhythm, rather than by harmonic tension and release.
His own songs have been frequently covered. The Rolling Stones covered "Mona" early in their career. The Animals recorded "The Story of Bo Diddley", The Who and The Yardbirds both covered "I'm a Man" and both the Woolies and George Thorogood had hits with "Who Do You Love", which was also covered by Quicksilver Messenger Service and was a concert favorite of The Doors. Bo Diddley's "Road Runner" was also frequently covered, including by The Who in concert. Muddy Waters' "Mannish Boy" was an adaptation of Diddley's "I'm a Man". ("Say Man" was his only Top 40 hit.) Ronnie Hawkins recorded and covered "Hey Bo Diddley", "Bo Diddley" and "Who Do You Love" during his many recording sessions, including those with his backing band of the time, The Hawks, of course, later known as The Band.
On November 20, 1955, Bo Diddley was the first African-American to appear on The Ed Sullivan Show>, only to infuriate him ("I did two songs and he got mad." Diddley later recalls, "Ed Sullivan said that I was one of the first colored boys to ever double-cross him. Said that I wouldn't last six months."). Diddley was asked to sing Tennessee Ernie Ford's hit Sixteen Tons. But when he appeared on stage, he sang his #1 hit Bo Diddley. He was banned from further appearances. The Doors and comedian Jackie Mason would later join Diddley on the list of performers banned from the Ed Sullivan Show.
Although Bo Diddley was a breakthrough crossover artist with white audiences, appearing on the Alan Freed concerts, for instance, he rarely tailored his compositions to teenaged concerns. The most notable exception is probably his album Surfin' With Bo Diddley, which featured "Surfer's Love Call", and while Bo may never have hung ten in his baggies to catch the big wave, he was definitely an influence on surf guitar players.
His lyrics are often witty and humorous adaptations of folk music themes. His first hit, "Bo Diddley" was based on the lullaby "Hush Little Baby". Likewise, "Hey Bo Diddley" is based on the folk song, "Old Macdonald".
In addition to the many songs identified with him, he wrote the pioneering pop tune "Love Is Strange" for Mickey and Sylvia under a pseudonym.
His trademark instrument is the square-bodied guitar that he developed and wielded in thousands of concerts over the years from sweaty Chicago clubs to rock and roll oldies tours and even as an opening act for The Clash and a guest for the Rolling Stones.
The later years
In recent years, Bo Diddley has received numerous accolades in recognition of his role as one of the founding fathers of rock and roll. In 1986, he was inducted into the Washington Area Music Association's Hall of Fame. The following year saw his induction into the Rock and Roll Hall of Fame. His pioneering contribution to the genre has been recognized by the Rockabilly Hall of Fame. In 1996, he was awarded the Lifetime Achievement Award by the Rhythm and Blues Foundation. The following years saw his 1955 recording of his song "Bo Diddley" inducted into the Grammy Hall of Fame as a recording of lasting qualitative or historical significance and he received a Lifetime Achievement Award at the Grammy Awards Ceremony.
The start of the new millennium saw Bo Diddley inducted into the Mississippi Musicians Hall of Fame and into the North Florida Music Association's Hall of Fame. In 2002, he received a Pioneer in Entertainment Award from the National Association of Black Owned Broadcasters and a Broadcast Music Incorporated (BMI) Icon Award in recognition of his many contributions to contemporary music.
In 2003, tribute was paid to Bo Diddley in the United States House of Representatives by Hon. John Conyers, Jr. of Michigan, who described him as "one of the true pioneers of rock and roll, who has influenced generations".
In 2004, Mickey and Sylvia's 1956 recording of his song "Love Is Strange" was inducted into the Grammy Hall of Fame as a recording of qualitative or historical significance and he was inducted into the Blues Foundation's Blues Hall of Fame. Rolling Stone magazine named him as one of its Immortals - The 50 Greatest Artists of All-Time.
In 2005, Bo Diddley celebrated his 50th anniversary in music with successful tours of Australia and Europe and with coast to coast shows across North America. He performed his song "Bo Diddley" with Eric Clapton and Robbie Robertson at the Rock and Roll Hall of Fame's 20th annual induction ceremony and in the UK, Uncut magazine included his 1958 debut album "Bo Diddley" in its listing of the '100 Music, Movie & TV Moments That Have Changed The World'.
In 2006, Bo Diddley participated as the headliner of a grass-roots organized fundraiser concert, to benefit the town of Ocean Springs, Mississippi, which was devastated by the Hurricane Katrina. The 'Florida Keys for Katrina Relief' was originally set for October 23, 2005, but Hurricane Wilma barreled through the Florida Keys on October 24 causing flooding and economic mayhem. In January 2006 the Florida Keys had recovered enough to host the fundraising concert to benefit the more hard hit community of Ocean Springs. When asked about the fundraiser Bo Diddley stated, "This is the United States of America. We believe in helping one another."
He currently and for many years has made his home in Archer, Florida, a small farming town nearby to Gainesville, Florida.
Discography
Bo Diddley (1958)
Go Bo Diddley (1959)
Have Guitar-Will Travel (1960)
Bo Diddley In The Spotlight (1960)
Bo Diddley Is A Gunslinger (1960)
Bo Diddley Is A Lover (1961)
Bo Diddley's A Twister (1962)
Bo Diddley (1962)
Bo Diddley & Company (1962)
Surfin' with Bo Diddley (1963)
Bo Diddley's Beach Party (1963)
Bo Diddley's 16 All-Time Greatest Hits (1964)
Two Great Guitars (Chuck Berry) (1964)
Hey Good Lookin' (1965)
500% More Man (1965)
The Originator (1966)
Super Blues (with Muddy Waters & Little Walter) (1967)
Super Super Blues Band (with Muddy Waters & Howlin' Wolf) (1967)
The Black Gladiator (1970)
Another Dimension (1971)
Where It All Began (1972)
Got My Own Bag of Tricks (1972)
The London Bo Diddley Sessions (1973)
Big Bad Bo (1974)
20th Anniversary of Rock & Roll (1976)
I'm A Man (1977)
Ain't It Good To Be Free (1983)
Bo Diddley & Co - Live (1985)
Hey...Bo Diddley in Conce rt (1986)
Breakin' Through The BS (1989)
Living Legend (1989)
Rare & Well Done (1991)
Live At The Ritz (with Ronnie Wood) (1992)
This Should Not Be (1993)
Promises (1994)
A Man Amongst Men (1996)
Moochas Gracias (with Anna Moo) (2002)
This article is licensed under the GNU Free Document License
It uses material from the Wikipedia article - Bo Diddley