Carolyn Arends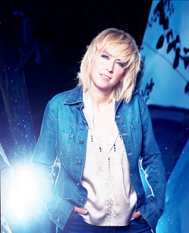 Carolyn Arends is a Contemporary Christian musician, songwriter, and author based in Surrey, British Columbia Canada. She is a singer and guitarist who began touring and releasing albums in 1995.
Awards and recognition
Juno Awards
1998: nominee, Best Gospel Album, Feel Free
2002: nominee, Best Gospel Album, Travelers
Dove Awards (GMA)
Arends received two Dove Awards to date. She was the first Canadian to win this honour from the US-based GMA.
CGMA Covenant Awards
2002: Pop/Contemporary Song of the Year, "Dance Like No One's Watching"
2003: Inspirational Album of the Year, We've Been Waiting for You
2005: Inspirational Song of the Year, "Getting Ready For Glory, from Under the Gaze
2005: Seasonal Album of the Year, Christmas: An Irrational Season
Shai Awards
2005: Female Soloist Artist of the Year
2005: Folk Album of the Year, Under the Gaze
2005: Inspirational Album of the Year, Under the Gaze
2005: Seasonal Album of the Year, Christmas: An Irrational Season
Books
Living the Questions (Harvest House, 2000)
We've Been Waiting for You (2002)
Discography
I Can Hear You (Reunion, 15 August 1995)
Feel Free (Reunion, 11 March 1997)
This Much I Understand (23 March 1999)
Seize the Day and Other Stories (Reunion, 18 April 2000)
Travelers (Signpost, 15 October 2001)
We've Been Waiting For You (Signpost, 4 April 2002)
Under the Gaze (Signpost, 4 October 2004)
Christmas: An Irrational Season (Signpost, 2 November 2004)
Pollyanna's Attic (in production, expected release in 2006)
Songs in other projects
Noel, "What Child is This", with Brent Bourgeois and Derri Daugherty (Via, 1995)
Noel, "Angels We Have Heard on High", with Jenny Gullen and Stephen Murray (Via, 1995)
Orphans of God: A Tribute to Mark Heard, "Love is So Blind" (Fingerprint, 1996)
Awesome God: A Tribute to Rich Mullins, "Jacob and Two Women" (Reunion, 10 November 1998)
Sing Me To Sleep, Mommy, "You Bring Me Joy" (Brentwood, 27 April 1999)
Notable appearances
Cornerstone Festival (July 1997)
Kingdom Bound (August 1997)
Cornerstone Festival (July 2002)
This article is licensed under the GNU Free Document License
It uses material from the Wikipedia article - Carolyn Arends