Jennifer Knapp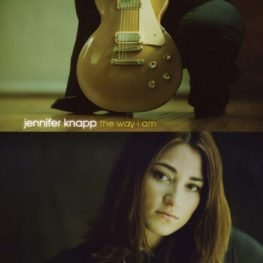 Jennifer Knapp (born December 30, 1974) is a Christian folk-rock musician who has been self-described as a "girl with a guitar,". Jennifer uses her music and heart-felt lyrics as a vehicle through which to relate the gospel to a generation of people searching for authenticity, meaning, and relevance.
Knapp toured widely after her critically acclaimed first CD release, Kansas, singing in churches, festivals and large venues alike. Jennifer's approachability before and after shows is merely an affirmation of the feeling one gathers about her from her music.
In addition to her own releases, she has collaborated with a number of artists on various studio projects and releases, among them Audio Adrenaline, Christian Rap band "Grits" and Third Day.
Current News
In an interview from the January/February 2004 issue of Relevant Magazine, Jennifer stated that she was taking a break from music for a while, leaving the future of her career in God's hands.
"It was definitely time for a break," she said. "I was touring Lay It Down while recording The Way I Am, then went directly into touring that record. It got to where I was just doing shows to support the record, rather than having a record support the heart of the people I was supposed to be serving. I don't want to make and tour another record just because that's what people expect, or because 'it's about that time.'"

Knapp gave no indication of when new material will surface. "Truly, no plans and no promises of when," she said. "At this time there's really not enough material, and I don't want to force anything just for the sake of getting a record finished."

Knapp said she's leaving the future of her career in God's hands. She's still overwhelmed at what opportunities she's already had, but she's not eager to return to the road life anytime soon.

"The last seven years have been beyond my ability to imagine," she said. "[This] has been the road that God has afforded me the option of traveling. Where that road leads, only -- and truly only -- He knows."
Months later it was revealed that Knapp had left her record company and the CCM industry behind. There has been no public reason given for Knapp's motivation to leave her career behind. After her departure, her record company released a greatest hits CD. Because she had a five-CD contract with her record label (Gotee Records), they released a live CD featuring 13 live tracks in January, 2006.
Discography
Circle Back (Independent 5 song cassette only release)
Wishing Well (Independent release, first 5 songs are from Circle Back)
Kansas (1998)
Lay It Down (2000)
The Way I Am (2001)
The Collection (2-Disk) (2003)
8 Great Hits
Live (2006)
This article is licensed under the GNU Free Document License
It uses material from the Wikipedia article - Jennifer Knapp