Joan Baez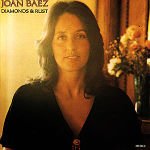 Joan Chandos Baez (born January 9, 1941) is an American folk singer and songwriter known for her distinctive vocal style as well as her outspoken activism and political views.
Biography
Joan Baez was born on Staten Island, New York, to a Quaker family of Mexican, English and Scottish descent. Her father Albert Baez, a physicist (co-inventor of the x-ray microscope and author of one of the most widely used physics textbooks in the U.S.), refused lucrative defense industry jobs during the height of the Cold War, probably influencing Joan's political activism in the American and international civil rights and peace movements of the 1960s to the present. The family, frequently having to move by reason of his work, lived in different towns across the United States, in France, Switzerland, Italy, the Middle East, and Iraq, where they stayed in 1951. Baez, at the time only ten years old, was deeply influenced by the poverty and the inhuman treatment the local population in Baghdad suffered. In the late 1950s, Dr. Baez accepted a faculty position at MIT, and moved his family to the Boston area, at the time the center of the up-and-coming folk music scene, and Joan began busking locally in the Boston/Cambridge area also performing in clubs, and attending Boston University. Her most noted venue was the Club 47 Mount Auburn, in Cambridge, where she performed twice a week for $20 per show. It was with other performers from the same club that she recorded her first album, Folksingers 'Round Harvard Square.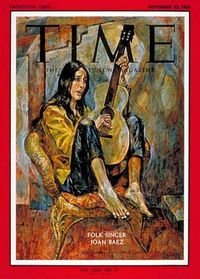 Baez' true professional career began at the 1959 Newport Folk Festival and she recorded "Joan Baez", her first album for a major company, the following year on Vanguard Records. The collection of traditional folk ballads, blues and laments sung to her own guitar accompaniment sold moderately well. Her second release, Joan Baez, Vol. 2 in 1961 went gold, as did Joan Baez in Concert, Parts 1 and 2 (released in 1962 and 1963, respectively). From the early to mid-1960's, Baez emerged at the forefront of the American roots revival, where she introduced her audiences to the less prominent Bob Dylan (the two became romantically involved in late 1962, remaining together through early 1965), and was emulated by artists such as Joni Mitchell and Bonnie Raitt.
During this period, as the Vietnam War and the Civil Rights struggle in America both became more prominent issues, Baez focused more of her attention on both areas, until eventually her music and her political involvement became inseparable. Her performance of "We Shall Overcome," the civil rights anthem popularized by Pete Seeger, at Martin Luther King's March on Washington permanently linked her with the anthem, and was frequently highly visible in civil rights marches. Her performance of "Joe Hill" is also anthological. She also became more vocal about her disagreement with the U.S. war in Vietnam, publicly disclosing that she was withholding sixty percent of her income taxes (as that was the figure commonly determined to fund the military), and encouraging draft resistance at her concerts. In 1965 she founded the Institute for the Study of Nonviolence. In 1967, she was arrested twice --and jailed for a month-- for participating in civil disobedience against the Vietnam War, blocking the entrance of the Armed Forces Induction Center in Oakland, California.
Like Dylan, Baez was profoundly influenced by the British Invasion and began augmenting her acoustic guitar on 1965's Farewell Angelina just after Dylan began experimenting with folk-rock. Later in the decade, Baez experimented with poetry (1968s Baptism: A Journey Through Our Time) and country music (1969's David's Album and 1970's One Day at a Time).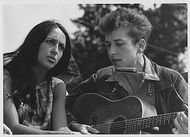 In 1968, Baez married David Harris, a prominent anti-Vietnam War protester and organizer eventually imprisoned for draft resistance. The couple divorced in 1973. Harris, a country music fan, turned Baez toward more complex country rock influences beginning with David's Album. In 1969, Baez' appearance at the historic Woodstock music festival in upstate New York afforded her an international musical and political podium, particularly upon the successful release of the like-titled documentary film. Her 1971 cover of The Night They Drove Old Dixie Down (by The Band) was a top 10 hit in the United States. In 1972, Baez recorded two songs, "Rejoice in the Sun" and "Silent Running," for the highly-regarded eco- science fiction film, Silent Running. In the mid-1970s, Baez began writing many of her own songs. Her most famous self-penned tune is "Diamonds and Rust," which was recorded by Judas Priest in 1977.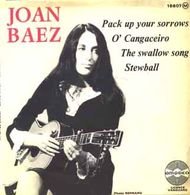 Meanwhile, Baez' political involvement had by no means ceased. During Christmas of 1972, she joined a peace delegation traveling to North Vietnam, both to address human rights in the region, as well as to deliver Christmas mail to American POW's. During her time there, she was caught in the U.S. military's "Christmas bombing" of Hanoi, during which the city was bombed for eleven straight days. She also devoted a substantial amount of her time in the early 1970s to helping establish a U.S. branch of Amnesty International, and has since worked on improving human rights in Latin America, Southeast Asia, South Africa, Europe, and the United States. Her disquiet at the human rights violations of communist Vietnam made her increasingly critical of its government and she organized the publication, on May 30, 1979, of a full-page advertisement, published in four major U.S. newspapers, in which the communists were described as having created a nightmare (which put her at odds with a large segment of the domestic left wing, who were uncomfortable criticizing a leftist regime). This experience ultimately led Baez to found her own human rights group, Humanitas International, whose focus was to target oppression wherever it occurred, criticizing right and left wing regimes equally. She toured Chile, Brazil and Argentina in 1981, but was prevented from performing in any of the three countries, fearful her criticism of their human rights practices would reach mass audiences if she were given a podium. (A film of the ill-fated tour, There but for Fortune, was shown on PBS in 1982.)
With 1972s Come from the Shadows, Baez switched to A&M Records, flirting with mainstream pop music as well as writing her own songs for her best-selling 1975 release Diamonds & Rust. She switched to CBS Records briefly during the late 1970s, but found herself without an American label for the release of 1984s Live -Europe '83. She didn't have an American release until 1987's Recently Gold Castle Records. She recorded two more albums with Gold Castle, "Speaking of Dreams," (1989) and "Brothers in Arms" (compilation) (1991), then landed a contract with a major label, Virgin Records, recording Play Me Backwards for Virgin in 1992 shortly before the company was bought out by EMI. She then switched to Guardian, with whom she produced a live CD ("Ring Them Bells") and a studio CD, "Gone from Danger." Her 2003 album, Dark Chords on a Big Guitar, found her performing songs by composers half her age, while a November 2004 performance at New York's Bowery Ballroom was recorded for a 2005 live release, Bowery Songs.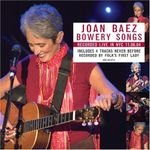 Baez played a significant role in the 1985 Live Aid concert for African famine relief, opening the U.S. segment of the show in Philadelphia. She also has toured on behalf of many other causes, including Amnesty International's 1986 A Conspiracy of Hope Tour and a guest spot on their subsequent Human Rights Now! Tour. After performing at a 1989 concert in Czechoslovakia attended by many of that country's dissidents, President Vaclav Havel (who was in attendance) cited Joan as a great inspiration and influence in that country's so-called Velvet Revolution, the bloodless revolution in which the Soviet-dominated communist government there was overthrown. In 1993, Joan became the first major artist to perform in Sarajevo after the outbreak of the civil war as she traveled to war-torn Bosnia-Herzegovina at the invitation of Refugees International.
Baez toured with Bob Dylan in 1964 and 1965, during his 1975 and 1976 Rolling Thunder Revue tours, and, abortively, in Europe in 1984. At one time she was romantically linked to Steve Jobs.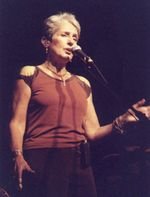 On Earth Day, 1998, Baez and her friend Bonnie Raitt were hoisted by a giant crane to the top of a redwood tree to visit environmental activist Julia Butterfly Hill, who was camped out in the ancient tree in order to protect it from loggers. In early 2003, Baez performed at two rallies of hundreds of thousands of people in San Francisco protesting the U.S. invasion of Iraq (as she had earlier done before smaller crowds in 1991 to protest the Persian Gulf War). In August of 2003, she was invited by Emmylou Harris (who also credits her as a primary influence) and Steve Earle to join them in London at the Concert For a Landmine Free World. In the summer of 2004, she joined Michael Moore's "Slacker Uprising Tour" on American college campuses, encouraging young people to get out and vote for peace candidates in the upcoming national election. In August 2005, Baez appeared at the Texas anti-war protest that had been started by Cindy Sheehan. The following month, she sang "Swing Low, Sweet Chariot" and "Amazing Grace" at the Temple in Black Rock City during the annual Burning Man festival as part of a tribute to New Orleans and the victims of Hurricane Katrina, and during that month she also performed several songs at the rally against the Iraq War in Washington, DC.
In December 2005, Baez appeared at the California protest at San Quentin prison against the execution of Tookie Williams. There, she sang "Swing Low, Sweet Chariot." She had previously performed the same song at San Quentin at the 1992 vigil protesting the execution of Robert Alton Harris, the first man to be executed in California after the death penalty was reinstated.
On January 13, 2006, Baez performed at the funeral of singing legend Lou Rawls, where she led Jesse Jackson, Stevie Wonder, and others in the singing of "Amazing Grace."
On May 23, 2006, Baez once again joined prominent environmental activist Julia "Butterfly" Hill, this time in a "tree sit" in a giant tree on the site of the South Central Farm in a poor neighborhood of downtown Los Angeles. Baez and Hill were hoisted into the tree, where they remained overnight. The women, in addition to many other activists and celebrities, were protesting the imminent eviction of the community farmers and demolition of the site, which is the largest urban farm in the state. Baez sang several songs from her 1974 spanish-language album, Gracias A La Vida, including the title track (while hanging in midair) and "No Nos Moveran" (We Shall Not Be Moved.)
Joan Baez has a son, Gabriel Harris. She was one of three sisters, her older sister being Pauline Baez; her younger sister was singer, guitarist and activist Mimi Farina, born Margarita Mimi Baez (1945-2001), who died of neuroendocrine cancer.
The mathematical physicist and Usenet guru, John C. Baez (b. 1961), is her cousin, as is well-known medical marijuana activist Peter Baez, whom she publicly supported when he was arrested on felony charges after a raid on the San Jose, CA medical marijuana dispensary he co-founded.
Baez is a resident of Woodside, California, and is a graduate of Palo Alto High School.
Discography
Folksingers 'Round Harvard Square (1959)
"Joan Baez", Vanguard (November 1960)
Joan Baez, Vol. 2, Vanguard (October 1961)
Joan Baez in Concert, Vanguard (September 1962)
Joan Baez in Concert, Part 2, Vanguard (November 1963)
Joan Baez/5, Vanguard (November 1964)
Farewell Angelina, Vanguard (November 1965)
Noel, Vanguard (December 1966)
Joan, Vanguard (August 1967)
Baptism: A Journey Through Our Time, Vanguard (June 1968)
Any Day Now (Songs of Bob Dylan), Vanguard (December 1968)
David's Album, Vanguard (May 1969)
One Day at a Time, Vanguard (January 1970)
Blessed Are..., Vanguard (1971)
Silent Running (Soundtrack Album) (March, 1972)
Come from the Shadows, A&M (April 1972)
Where Are You Now, My Son?, A&M (March 1973)
Gracias A la Vida, A&M (July 1974)
Diamonds & Rust, A&M (April 1975)
From Every Stage, A&M (February 1976)
Gulf Winds, A&M (November 1976)
Blowin' Away, CBS (July 1977)
Honest Lullaby, CBS (April 1979)
Live -Europe '83, Gamma (January 1984)
Recently, Gold Castle (July 1987)
Diamonds & Rust in the Bullring, Gold Castle (December 1988)
Speaking of Dreams, Gold Castle (November 1989)
Play Me Backwards, Virgin (October 1992)
>Ring Them Bells, Guardian (August 1995)
Gone from Danger, Guardian (September 1997)
Dark Chords on a Big Guitar, Koch (October 2003)
Bowery Songs, Koch (September 2005)
Compilations
The First 10 Years, Vanguard (November 1970)
The Joan Baez Ballad Book, Vanguard (1972)
Hits: Greatest and Others, Vanguard (1973)
The Contemporary Ballad Book, Vanguard (1974)
The Joan Baez Lovesong Album, Vanguard (1976)
The Joan Baez Country Music Album (1977)
Best of Joan C. Baez, A&M (1977)
Joan Baez: Classics, A&M (1986)
Brothers in Arms, Gold Castle (1991)
No Woman No Cry, Laserligh (February 1992)
Rare, Live & Classic (boxed set), Vanguard (1993)
Greatest Hits, A&M (1996)
Best of Joan Baez: The Millennium Collection, A&M/Universal (1999)
The Complete A&M Recordings, Universal/A&M (2003)
Bowery Songs, Proper Records (2006)
References
Baez, Joan. 1988. And a Voice to Sing With: A Memoir. Century Hutchinson, London. ISBN 0-7126-1827-9
Further reading
Baez, Joan. 1968. Daybreak - An Intimate Journal. The Dial Press, New York.
Hajdu, David. 2001. Positively 4th Street. The Lives and Times of Joan Baez, Bob Dylan, Mimi Baez Farina And Richard Farina. Farrar, Straus & Giroux, New York.
This article is licensed under the GNU Free Document License
It uses material from the Wikipedia article - Joan Baez