Larry Carlton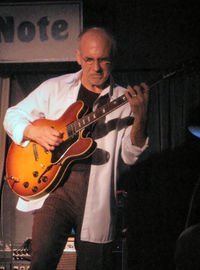 Larry Carlton (born 2 March 1948) is an American jazz guitarist, dividing his recording time between solo recordings and session appearances with more popular bands. Over his career Carlton has won three Grammys for his performances and compositions, including the theme song for the hit television series, Hill Street Blues (1981). It is perhaps Carlton's creative and musical blend of jazz and rock elements that make him such a unique and talented artist.
Appreciated by smooth jazz fans for his subtle, velvety style, and also by jazz and blues guitarists for his tight phrasing and impressive technique, Carlton started learning to play guitar when he was six years old. Taking an interest in jazz whilst at high school, his playing style was most influenced by guitarists Joe Pass, Wes Montgomery, Barney Kessel, and B.B. King. Saxophonist John Coltrane has also made a notable impression on Carlton, and Carlton's live albums have featured cuts from Miles Davis's hallmark Kind of Blue.
Career
During the 1970s, Carlton was a busy session musician in Los Angeles, appearing on up to 500 recordings a year, including albums by Steely Dan, Joni Mitchell and Quincy Jones. His loopy, dazzling guitar work on Steely Dan's 'Kid Charlemagne' from their 1976 LP The Royal Scam has been listed as the third best guitar solo on record by Rolling Stone Magazine. From 1971 to 1976 he played with the jazz-rock group The Crusaders. In 1977 he signed with Warner Brothers Records for a solo career. Although still relatively unknown outside his fan-base, Carlton produced six albums from 1978 to 1984, during which his adaptation of Santo Farina's 'Sleepwalk' climbed the pop and adult contemporary charts and his 1983 LP Friends garnered a Grammy nomination.
His solo career took a twist in 1985 when he signed with MCA Master Series for an acoustic jazz album. The result was Alone/But Never Alone, which featured sparse but emotive arrangements, including a rendition of The Lord's Prayer. From 1985 to 1990 Carlton did various solo projects, the 1986 live "Last Nite" being one of his best recording and winning another Grammy for his cover of Michael McDonald's 'Minute By Minute' from the successful LP Discovery.
While working on his 1989 electric guitar LP On Solid Ground, Carlton was the victim of random gun violence, shot in the throat outside Room 335, his private studio in Southern California. The bullet shattered his vocal cord and caused significant nerve trauma. Amazingly, Carlton managed to recover quickly and completed On Solid Ground by the end of the year. He continued his work with the electric guitar in 1991 when he started to record a blues album, but decided to delay the project to meet demand for a more commercially-oriented jazz offering, which resulted in Kid Gloves. The rawer, southern-blues infused Renegade Gentleman was finally released in 1993, featuring Nashville harmonica legend Terry McMillan on several tracks.
From 1994 to 1997 Carlton participated in various tours and released an album with similar Los Angeles-based guitarist Lee Ritenour, which featured Remembering J.P., a nod to the recently deceased Joe Pass. Shortly thereafter, in 1997, he took Ritenour's place in the successful smooth jazz quartet, Fourplay, even adopting a softer, Wes Montgomery-flavored style similar to Ritenour's work.
In 2000, Carlton furthered his solo career with the polished Fingerprints, which at its strongest points demonstrated his continued growth as a composer and also downplayed his blues-roots in favor of jazz-chordal playing and octaves. His career received another considerable boost the following year when his live performance with Toto lead guitarist Steve Lukather, No Substitutions: Live At Osaka, garnered his third Grammy.
Carlton's most recent work includes the guest-appearance laden Deep Into It, the aggressive jazz-blues cut Sapphire Blue, and Firewire, his hardest album yet. While Carlton may not go down as a guitar "legend", his success as a session guitarist is remarkable. His influence on the younger generations of jazz and rock guitarists is very significant. Furthermore, it is clear that his versatile playing style transcends "smooth jazz" and cannot be limited to any particular genre, which makes him an intriguing listen for any guitarist.
Gear
Gibson produces a signature Larry Carlton model based on Carlton's own 1968 Gibson ES-335,hence his nickname : Mr. 335. His other guitars include an iconic 1951 blackguard Fender Telecaster. Today, Carlton plays Dumble Amplifiers. During the 1970's he often used an MXR Distortion+, MXR DynaComp compressor, Echoplex tape delay, and a Fender Princeton Reverb Amplifier.
Discography
CD
With A Little Help 1968 Uni
Singing / Playing 1973 Blue Thumb
Larry Carlton 1977 Warner Brothers
MR.335 Live In Japan (Japan Only) 1977
Strikes Twice 1980 Warner Brothers
Sleepwalk 1982 Warner Brothers
Eight Times Up 1982 Warner Brothers
Friends 1983 MCA
Alone / But Never Alone 1985 MCA
Last Nite 1986 MCA
Discovery 1987 MCA
On Solid Ground 1989 MCA
Christmas At My House 1989 MCA
Collection 1990 GRP
The Best Of Mr.335 1992 Warner Brothers
Kid Gloves 1992 GRP
Renegade Gentleman GRP 1993
Larry & Lee 1995 GRP
The Gift 1996 GRP
Collection Vol.2 1997 GRP
Fingerprints 2000 Warner Brothers
No Substitution Favored Nations 2001 Favored Nations
Deep Into It 2001 Warner Brothers
Sapphire Blue 2003 JVC Music
The Very Best of Larry Carlton 2005 GRP
Firewire 2005 Bluebird
Video
Larry Carlton Live 1987
Star Licks Larry Carlton 1989
Star Licks Larry Carlton Vol.2 1992
Larry Carlton Live At Montreal International Jazz Festival 1997
DVD
Carlton Lukather Band - The Paris Concert 2001
This article is licensed under the GNU Free Document License
It uses material from the Wikipedia article - Larry Carlton