Merle Haggard
Merle Ronald Haggard (nicknamed "The Hag"; born April 6, 1937 in Bakersfield, California) is an American country music singer, guitarist and songwriter.
Emerging from prison in the 1960s, Haggard was one of the early innovators of the Bakersfield Sound. With his hard biting electric guitar, he almost single-handedly introduced country to the electric sound. By the 1970s, he was aligned with the growing outlaw country movement, and has continued to release successful albums through the 1990s and into the 2000s. Haggard has been one of the best and most influential songwriters in country music since Hank Williams. His work in familiar country themes ' jail, betrayal, drinking and wandering ' include a directness that reflects his own life experience. His deep, grumbling, voice and dazzling guitar work gives his country a blues-like quality in many cuts.
Early life
Haggard's parents moved from Oklahoma to California during the Great Depression; at that time, much of the population of Bakersfield was made up of economic refugees from Oklahoma and surrounding states. Haggard's father died when Merle was 9, and Merle began to rebel against his mother. Authorities put him in a juvenile detention center Haggard's older brother gave him a guitar when Merle was 12, and he taught himself to play. In 1951, Haggard ran away to Texas with a friend but returned that same year and was arrested for truancy and petty larceny. He ran away from the next juvenile detention center to which he was sent and went to Modesto, California. He worked odd jobs - legal and not - and made his performing debut at a bar. Once he was found again, he was sent to the Preston School of Industry, a high-security installation. Shortly after he was released, 15 months later, Haggard was sent back after beating a local boy during a burglary attempt.
After his second release, Haggard saw Lefty Frizzell in concert with his friend Teague and sang a couple of songs for him. Lefty was so impressed, he allowed Haggard to sing at the concert. The audience loved Haggard, and he began working on a full-time music career. After earning a local reputation, Haggard's money problems caught up with him, and he was arrested for a robbery in 1957. He was sent to prison in San Quentin for 15 years. Even in prison, Haggard was wild. He planned an escape but never followed through, and he ran a gambling and brewing racket from his cell. Merle attended three of Johnny Cash's concerts at San Quentin. Cash inspired Haggard to straighten up and pursue his singing. Several years later, at another Cash concert, Haggard came up to Johnny and told him "I certainly enjoyed your show at San Quentin." Cash said "Merle, I don't remember you bein' in that show." Merle Haggard said, "Johnny, I wasn't in that show, I was in the audience." While put in solitary confinement on death row, Haggard encountered author and death row inmate Caryl Chessman. Haggard had the opportunity to escape with a fellow inmate nicknamed "Rabbit". Haggard passed on the chance to escape. The escape was successful. The man who escaped later shot a policeman and was returned to San Quentin and put to death. Chessman's predicament along with Rabbit's inspired Haggard to turn his life around, and he soon earned his high school equivalency diploma, kept a steady job in the prison's textile plant and played in the prison's band. He was released in 1960 and in March 1972 was pardoned by then California governor Ronald Reagan. Once released, Haggard said it took about four months to get used to being out of the penitentiary and that, at times, he actually wanted to go back in. He said it was the loneliest feeling he'd ever had.
Country success
Upon his release, Haggard started digging ditches and wiring houses for his brother. But soon he was performing again and then began recording with Tally Records. His first song was "Skid Row", just as the Bakersfield Sound was developing in the area, as a reaction against the over- produced honky tonk of the Nashville Sound. In 1962, Haggard wound up performing at a Wynn Stewart show in Las Vegas and heard Wynn's "Sing a Sad Song". He asked for permission to record it, and the resulting single was a national hit in 1964.
Haggard released a series of successful singles in the early 1960s, including "Just Between the Two of Us" (duet with Bonnie Owens) and "(My Friends Are Gonna Be) Strangers". He then signed to Capitol Records and released "I'm Gonna Break Every Heart I Can" to limited sales. In 1966, however, his second Capitol single, "Swinging Doors", was a Top Five hit and Haggard had become a nationally known superstar. During the late 1960s, Haggard's chart success was consistent and impressive. "The Bottle Let Me Down", "The Fugitive", "Branded Man", "Mama Tried", "Sing Me Back Home", "Hungry Eyes," "The Legend of Bonnie and Clyde", and "I Threw Away the Rose" are among the more well-remembered titles. "Mama Tried" and "Killer's Three Theme" sung by Merle were part of the soundtrack to the 1968 film Killers Three, which also included Haggard's acting debut.
In 1968, Haggard's first tribute LP Same Train, Different Train: A Tribute to Jimmie Rodgers, was released to great acclaim.
In 1969's apparent political statement, "Okie From Muskogee", was actually written as an abjectly humorous character portrait, a "documentation of the uneducated that lived in America at the time, and I mirror that. I always have. Staying in touch with the working class." (Phipps 2001) However, he said later on the Bob Edwards Show that "I wrote it when I recently got out of the joint. I knew what it was like to lose my freedom, and I was getting really mad at these protestors. They didn't know anything more about the war in Vietnam than I did. I thought how my dad, who was from Oklahoma, would have felt. I felt I knew how those boys fighting in Vietnam felt." Later, Alabama Gov. George Wallace asked Haggard for an endorsement, which Haggard declined. However, Haggard does express sympathy with the "parochial" or conservative way of life expressed in "Okie" and songs such as "The Fightin' Side of Me" (ibid). It should be noted, however, that after "Okie" was released, Haggard wanted to release a self-penned song entitled "Irma Jackson" about an interracial couple; the single was quashed by his record company, although Tony Booth went on to record it in 1970.
Regardless of exactly how they were intended, "Okie From Muskogee", "The Fightin' Side of Me", and "I Take a Lot of Pride in What I Am" were hailed as anthems of the Silent Majority and presaged a trend in patriotic songs that would reappear years later with Charlie Daniels' "In America", Lee Greenwood's "God Bless the USA", and others. But other Haggard songs were appreciated regardless of politics: the Grateful Dead began performing Haggard's tune "Mama Tried" in 1969, and it stayed in their regular repertoire thereafter; singer-activist Joan Baez, whose political leanings couldn't be more different from those expressed in Haggard's above-referenced songs, nonetheless covered "Sing Me Back Home" and "Mama Tried" in 1969.
In 1972, then-Gov. Ronald Reagan gave Haggard a full pardon for his past crimes. Haggard often brags that few figures in history can become public enemy No. 1 and man of the year in the same 10-year period.
During the early to mid 1970s, Haggard's chart domination continued with songs like "Someday We'll Look Back", "Carolyn", "Grandma Harp", "Always Wanting You" and "The Roots of My Raising". The 1975 recession anthem "If We Make It Through December" cast Haggard back to being a champion of the working class.
Haggard was inducted into the Nashville Songwriters Hall of Fame in 1977.
Later years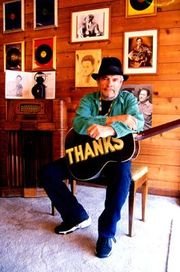 By the 1980s, Haggard's popularity was waning in pop markets. He published an autobiography called Sing Me Back Home. Although he won a Grammy Award for Best Male Country Vocal Performance for 1984's "That's The Way Love Goes", a new kind of honky tonk had begun to overtake country music, and singers like George Strait and Randy Travis had taken over the charts. Haggard's last No. 1 hit was "Twinkle Twinkle Lucky Star" from his smash album Chill Factor in 1988.
Although he has been outspoken in his dislike for modern country music, he has praised newer stars such as Strait and Travis. The Dixie Chicks paid him tribute by recording Darrell Scott's song "Long Time Gone", which criticizes Nashville trends: "We listen to the radio to hear what's cookin' / But the music ain't got no soul / Now they sound tired but they don't sound Haggard," with the following lines mentioning Johnny Cash and Hank Williams in the same vein.
In 2000, Haggard made a comeback of sorts, signing with the independent record label Anti and releasing the spare If I Could Only Fly to critical acclaim. He followed it in 2001 with Roots, Vol. 1, a collection of Lefty Frizzell, Hank Williams and Hank Thompson covers, along with three Haggard originals. The album, recorded in Haggard's living room with no overdubs, featured Haggard's longtime bandmates The Strangers as well as Frizzell's original lead guitarist, Norman Stephens.
In December 2004, Haggard spoke at length on Larry King Live about his incarceration as a young man and said it was "hell" and "the scariest experience of my life."
In October 2005, Haggard released his newest album, "Chicago Wind", to mostly positive reviews. The album contained an anti-Iraq war song in October 2005 entitled "America First," in which he laments the nation's economy and faltering infrastructure, applauds its soldiers, and sings, "Let's get out of Iraq, and get back on track."
In 2006, Haggard was back on the radio, in a duet with Gretchen Wilson, "Politically Uncorrect".
On April 24, 2006 Haggard's former wife Bonnie Owens died in Bakersfield, CA due to Alzheimer's disease she was 76.
Even when success eluded him, Merle Haggard's music remained some of the most consistently interesting and inventive in country music. Not only have his recordings remained fresh, but each subsequent generation of country singers show a great debt to his work. That fact stands as a testament to his great talent even more than his induction to the Country Music Hall of Fame.
Albums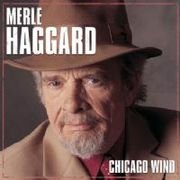 Year
Album
1965
Strangers
1966
Just Between The Two Of Us (with Bonnie Owens)
Swinging Doors
1967
I'm A Lonesome Fugitive
Branded Man
1968
Sing Me Back Home
The Legend Of Bonnie And Clyde
Mama Tried
1969
Pride In What I Am
Same Train, Different Time
A Portrait Of Merle Haggard
The Instrumental Sounds of Merle Haggard's Strangers
Okie From Muskogee (Live)
1970
Introducing My Friends The Strangers
Getting To Know The Strangers
The Fightin' Side Of Me (Live)
My Salute to Bob Wills
1971
Hag
Someday We'll Look Back
Strangers and Friends, Honky Tonkin'
1972
The Land Of Many Churches (Live)
Let Me Tell You About A Song
It's Not Love (But It's Not Bad)
1973
I Love Dixie Blues... So I Recorded "Live" In New Orleans (Live)
Totally Instrumental... With One Exception
Merle Haggard's Christmas Present
1974
If We Make It Through December
1975
Merle Haggard Presents His 30th Album
Keep Movin' On
1976
It's All In The Movies
My Love Affair With Trains
The Roots Of My Raising
1977
A Working Man Can't Get Nowhere Today
Ramblin' Fever
My Farewell To Elvis
1978
I'm Always On A Mountain When I Fall
1979
Serving 190 Proof
1980
The Way I Am
Back To The Barrooms
1981
Rainbow Stew: Live at Anaheim Stadium (Live)
Songs For The Mama That Tried
Big City
1982
A Taste Of Yesterday's Wine (with George Jones)
Going Where The Lonely Go
Goin' Home For Christmas
Pancho & Lefty (with Willie Nelson)
1983
Heart To Heart (with Leona Williams)
That's The Way Love Goes
The Epic Collection (Live)
1984
It's All In The Game
1985
Kern River
Amber Waves Of Grain (Live)
1986
A Friend In California
1987
Out Among The Stars
The Seashores Of Old Mexico (with Willie Nelson)
Chill Factor
1989
5:01 Blues
1990
Blue Jungle
1994
1994
1995
Greatest Hits - Finest Performances
1995
Classics
1996
1996
1999
For The Record: 43 Legendary Hits
Merle Haggard Live at Billy Bob's
2000
New Light Through Old Windows
If I Could Only Fly
2001
Cabin In The Hills
Two Old Friends (with Al Brumley Jr.)
Roots Volume 1
2002
The Peer Sessions
2004
Haggard Like Never Before
40 #1 Hits
Unforgettable Merle Haggard
Ol' Country Singer: Live at Billy Bob's Texas
I Wish I Was Santa Claus
2005
Chicago Wind
Soundtracks
| Year | Album |
| --- | --- |
| 1968 | Killers Three |
| 1980 | Bronco Billy |
| 1997 | Wag The Dog |
Awards
Year
Award
2006
Grammy
Recording Academy's Lifetime Achievement Award
2004
IBMA
Recorded Event of the Year
1998
Grammy
Best Country Collaboration with Vocals, Hall of Fame Award
1994
Elected to the Country Music Hall of Fame
1990
TNN / Music City News
Living Legend
1984
Grammy
Best Male Country Vocal Performance
1983
Country Music Awards
Vocal Duo of the Year
1982
Academy of Country Music
Song of the Year
1981
Academy of Country Music
Top Male Vocalist
1980
BMI
Songwriters/Publishers of the Year
1977
Elected to the Nashville Songwriters Hall of Fame
1976
BMI
Songwriters/Publishers of the Year
1974
Academy of Country Music
Top Male Vocalist
1972
Academy of Country Music
Top Male Vocalist
Country Music Awards
Album of the Year
1970
Academy of Country Music
Entertainer of the Year, Top Male Vocalist
Country Music Awards
Album of the Year, Entertainer of the Year,
Male Vocalist of the Year, Single of the Year
1969
Academy of Country Music
Album of the Year, Single of the Year, Top Male Vocalist
1968
Academy of Country Music
Top Vocal Duet
Music City News
Country Male Artist of the Year
1967
Academy of Country Music
Top Vocal Duet
Music City News
Country Male Artist of the Year
1966
Academy of Country Music
Top Male Vocalist, Top Vocal Duet
1965
Academy of Country Music
Top New Male Vocalist, Top Vocal Duet
Miscellany
On the 1995 Fresh Air interview with Terry Gross, Haggard corrected the usual story that it was his mother who put him in juvenile detention, saying that in fact it was the local authorities.
Darrell Scott wrote and first performed Long Time Gone; the Dixie Chicks recorded it years later.
Sources
Aron A. Fox, "White Trash Alchemies of the Abject Sublime: Country as 'Bad' Music", in Christopher J. Washburne and Maiken Derno (eds.), Bad Music: The Music We Love to Hate, New York: Routledge, 2004 (ISBN 0415943663).
This article is licensed under the GNU Free Document License
It uses material from the Wikipedia article - Merle Haggard