Muddy Waters
Muddy Waters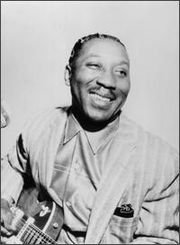 Muddy Waters
Born
April 4, 1915 or 1913
Issaquena County, Mississippi, USA
Died
April 30, 1983
Westmont, Illinois, USA
McKinley Morganfield (April 4, 1915 or 1913 - April 30, 1983), better known as Muddy Waters, was an American blues musician and is generally considered "the father of Chicago blues."
Early years
Morganfield was born in Jug's Corner, an area of Issaquena County, Mississippi, near the Mississippi River. The nearest town, Rolling Fork, is incorrectly believed to be his birthplace.
Waters' mother, Berta Jones, died when he was very young, and he was subsequently raised by his grandmother. They moved to the Stovall Plantation outside of Clarksdale, Mississippi when he was three. He was very eager to play music as a child, and after learning the harmonica, he bought his first guitar in 1930. He was soon in a regional outfit, the Son Sims Four, as a vocalist. Waters worked on his guitar style with the group.
Waters was first recorded on a Mississippi Delta plantation by Alan Lomax for the Library of Congress in 1941. Lomax had traveled to Mississippi to make recordings of Robert Johnson, unaware that Johnson had been dead for three years by that time. Upon learning of Johnson's demise, Lomax was pointed in the direction of Muddy Waters.
Waters played music anywhere from busking in the streets to church picnics to disreputable juke joints. He longed for a break from the hardscrabble life of rural Mississippi. After a fight with a plantation overseer in 1943, he moved to Chicago, Illinois, and took a factory job. In Chicago he switched from acoustic to electric guitar which was becoming increasingly popular among black musicians, as it allowed them to be heard in heavily crowded city bars. Waters' own guitar playing was gaining notoriety due to his use of the bottleneck on electric guitar; his style was heavily influenced by Robert Johnson's acoustic style.
Recording career begins
By 1946, Waters had gained the attention of record producers. He cut some tracks for Columbia which went unreleased at the time. His first recordings for Aristocrat Records (which would later evolve into Chess Records) featured Waters on guitar and vocals supported by a double bass. Later, he added a rhythm section and the harmonica of Little Walter to form his classic Chicago blues lineup. With his deep, rich voice, charismatic, ultra-macho personality, and an all-star backing, Waters rapidly became the most recognizable figure of Chicago Blues. Even B.B. King would later recall him as the "Boss of Chicago." Waters' bands were a "who's who" of Chicago blues musicians: Little Walter, Big Walter Horton, James Cotton, Junior Wells on harmonica; Willie Dixon on bass; Otis Spann, Pinetop Perkins on piano; Pat Hare, Jimmy Rogers, and numerous other notables on guitar.
Waters' best years both artistically and commercially were the 1950s. Although he continued to turn out excellent recordings, his fortunes gradually began to wane as Chess Records turned their attention to rock & roll artists such as Chuck Berry and Bo Diddley in the mid 1950s. Many of the songs he performed have since became standards: "Got My Mojo Working," "Hoochie Coochie Man," "She's Nineteen Years Old", "Just Make Love To Me" (a.k.a "I Just Want To Make Love To You"), and "Rolling and Tumbling" have all become classic songs, frequently covered by bands from many genres.
Indeed, the birth of rock and roll can be simplified as an amalgamation of the music of Muddy Waters and Hank Williams. If not explicitly in their music (Muddy was still a few years behind some of the artists he had already influenced, in Chicago), then, in their modern musical stylings: adding drums and electrified guitars. These seemingly disparate types of music were being soaked up in the musical melting pot of the Memphis, Tennessee area by the likes of Sam Phillips and the artists he was beginning to record, including a young Elvis Presley.
Later times
Still vital into the era of psychedelia, Waters' music was embraced by 1960s rock musicians. His then manager/bookers (Willie Ashwood Kavanna and Bob Messenger) were booking him with these "young rockers" as a way to introduce his music to college audiences, and convinced him to record one of these concerts which resulted in a collaboration with Paul Butterfield, Mike Bloomfield, and others resulting in the album Fathers and Sons. The previous year, Ashwood Kavanna had been instrumental in convincing Muddy and Chess to release Electric Mudd, which featured some incendiary, Jimi Hendrix-style arrangements of some of Waters' classic songs. The traditional blues fans were outraged, but the LP traced the linage of the Delta Blues to the then current hard rock, as imported by the British rockers, most of which was merely electrical versions of Muddy Waters and the other first generation bluesman (Robert Johnson, Lowell Fulson, Son House, etc). Muddy himself was less than thrilled with the results.
Most of Muddy Waters' studio output from the early and mid-1970s is less satisfying. Waters sounded mostly old, uninspired, and often out of touch with his own music. However, he made a memorable appearance in the film and recording of The Band's The Last Waltz. Subsequently, on 6-7 February 1975, Waters went to Woodstock, New York to record, with The Band's Levon Helm and Garth Hudson, plus Paul Butterfield, Pinetop Perkins, and Bob Margolin, what was to become his final Chess album, the Grammy-winning Woodstock Album. Clearly enjoying the busman's holiday, Waters turned in an acclaimed performance. Helm has called his production of the Woodstock Album perhaps his greatest achievement, ever.
A meeting shortly thereafter with Texas guitarist/vocalist Johnny Winter resulted in three of the finest albums Waters ever released. Using Winters' stripped-down (and mostly live) production, the albums Hard Again, I'm Ready, and King Bee capture Muddy Waters as riveting and vital as he was in his prime. One listen to the astonishing power of "Mannish Boy" (from Hard Again) and Waters sounds utterly reborn, reconnected to the swagger and confidence he possessed when he originally sang the song over two decades earlier.
Shortly after recording the King Bee album, Waters fired his entire band in a single swoop in a dispute over money. During his last two years of scaled-back touring, he performed with a mostly younger and less road-tested outfit that, not surprisingly, lacked the presence of the Johnny Winter-era Muddy Waters Blues Band, not to mention that of his groundbreaking early bands. It is the Winter-produced albums, therefore, that serve as Muddy Waters' memorable epitaph.
Muddy Waters died quietly in his sleep on April 30, 1983 at his home in Westmont, Illinois at the age of 68 (or 70, depending on the source for his birthdate) and is buried in the Restvale Cemetery in Alsip, Illinois near Chicago. Westmont renamed a street for Waters and holds an annual blues festival there.
Influence
His influence has been enormous across many music genres: blues, rhythm and blues, rock and roll, folk, jazz, and country. Waters even helped Chuck Berry get his first record contract.
His tours of England beginning in 1958 marked possibly the first time an amplified, hard-rocking band was heard there, although on his first tour he was the only one amplified; backing was provided by Englishman Chris Barber's trad jazz group. (One critic retreated to the restroom to write his review because he found the band so loud.) The Rolling Stones named themselves after Waters' 1950 song, "Rollin' Stone," also known as "Catfish Blues." One of Led Zeppelin's biggest hits, "Whole Lotta Love," is based upon the Muddy Waters hit, "You Need Love," which was written by Willie Dixon. Dixon wrote some of Muddy Waters' most famous songs, including "I Just Want to Make Love to You" (a big radio hit for the '70s rock band Foghat), "Hoochie Coochie Man," and "I'm Ready." Angus Young of the rock group AC/DC has cited Waters as one of his influences, as is apparent in AC/DC's cover of "Baby Please Don't Go".
Other songs for which Muddy Waters is known include "Long Distance Call", "Rock Me", and the jumping blues anthem "Got My Mojo Working".
References
Can't be Satisfied: The Life And Times Of Muddy Waters by Robert Gordon, Keith Richards, 2002, 432 pp. ISBN 0316328499
Muddy Waters: The Mojo Man by Sandra B. Tooze, 1997, 383 pp. ISBN 1550222961
Muddy Waters: Deep Blues by Muddy Waters, 1995, 183 pp. ISBN 0793509556
Muddy Waters: Deep Blues And Good News by Dave Rubin, Muddy Waters ISBN 0793565014
Bossmen: Bill Monroe and Muddy Waters by James R. Rooney, 1991, 163 pp. ISBN 0306804271
This article is licensed under the GNU Free Document License
It uses material from the Wikipedia article - Muddy Waters