Neil Diamond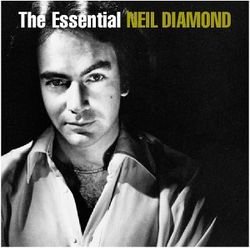 Neil Leslie Diamond (born 24 January 1941) is an American singer and songwriter.
From the 1960s to the 1980s, Diamond was one of the more successful pop music performers, scoring a a number of hits in the 1960s, 1970s, and 1980s. As critic William Ruhlmann writes, "as of 2001, he claimed worldwide record sales of 115 million copies, and as of 2002 he was ranked third, behind only Elton John and Barbra Streisand, on the list of the most successful adult contemporary artists in the history of the Billboard chart. As of May 2005 he has sold 120 million records worldwide, including 48 million records in U.S.
Though his record sales declined somewhat after the 1980s, Diamond continues to tour successfully, and maintains a very loyal following. Diamond's songs have been recorded by a vast array of performers from many different musical genres.
Diamond was inducted into the Songwriters Hall of Fame in 1984, and then in 2000, was given its Sammy Cahn Lifetime Achievement Award.
Biography
Early life and career
Diamond was born and raised in Brooklyn, New York in the United States attending Erasmus Hall High School where he took part in SING! and sang in the school choir with Barbra Streisand. He learned to play guitar after receiving one as a gift on his 16th birthday, and has cited Pete Seeger as an early inspiration.
Diamond was awarded a fencing scholarship to New York University, and was a pre-med student, interested in biology, but dropped out with less than a year left, both due to his dislike of Organic Chemistry and to pursue a career in music.
(Somewhere during this time, Neil considered changing his name to Noah Kaminsky, as reported in a New York Times article on October 1, 1972. Some sources, including pre-2000 editions of Joel Whitburn's "Top Pop Singles" book, have incorrectly reported that this is his real name. Neil also considered changing his name to Eice Chary, as told to Barbara Walters in a 1985 televised interview.)
Diamond's first recording contract was in 1960 with Duel records, as "Neil and Jack" an Everly Brothers type duo, with a high school friend Jack Packer. They recorded the single "What Will I Do," but it was unsuccessful. In 1962, Diamond signed with Columbia Records as a solo performer. He released the single "At Night" (backed with "Clown Town".) Despite a tour of radio stations the single failed to make the music charts, and Columbia dropped Diamond. Soon after Diamond was back to writing songs on an upright piano above the Birdland club.
He spent his early career as a writer in the Brill Building, and had an early success writing the songs "I'm a Believer" and "A Little Bit Me, a Little Bit You," which were recorded by The Monkees. There is a popular misconception that Diamond wrote these songs specifically for the "Pre-Fab Four." In reality, Diamond had written and recorded these songs for release himself, but the cover versions were released before his own. The unintended, but happy, consequence was that Diamond began to gain fame not only as a singer and performer, but as a songwriter. "Believer" was the Popular Music Song of the Year in 1966.
Success
Then Diamond signed a deal with Bang! Records in 1966. "Solitary Man" was his first hit on the music charts, and Diamond followed it with "Kentucky Woman," "Cherry, Cherry" and other hits. Diamond's Bang recordings were produced by legendary Brill Building songwriters Jeff Barry and Ellie Greenwich, both of whom can be heard singing backgrounds on many of the tracks.
His first concerts saw him open up for everyone from Herman's Hermits and on one occasion The Who, which he confirmed on an episode of VH1's Behind the Music: Neil Diamond.
However, Diamond began to feel restricted by Bang Records, and wanted to record more ambitious, introspective music. Finding a loophole in his contract with Bang, Diamond tried to sign with a new record label, but the result was a series of lawsuits that coincided with a dip in Diamond's professional success. Diamond eventually triumphed in court, and secured ownership of his Bang-era master recording in 1977.
1970s
After signing a deal with MCA Records (then called Uni Records) in the late 1960s, he moved to Los Angeles, California, in 1970. His sound mellowed, with such songs as "Cracklin' Rosie", "Sweet Caroline" and the country-and-western tinged "Song Sung Blue." "Sweet Caroline" was Diamond's first major hit after his slump.
In 1972, Diamond played ten sold out concerts at The Greek Theatre in Los Angeles. The performance on Thursday August the 24th was recorded and released as the live double album Hot August Night. This album demonstrates Diamond's skills as a performer and showman, as he reinvigorated his back catalogue of hits with new energy; critic Stephen Thomas Erlewin calls Hot August Night "the ultimate Neil Diamond record ... [which] shows Diamond the icon in full glory. The album has become a classic, and in Australia, spent a remarkable 29 weeks at number 1 on the music charts. The 1977 concert Love at The Greek, a return to the Greek Theatre, includes a version of "Song Sung Blue" with duets with Helen Reddy and Henry Winkler a.k.a. The Fonz.
In 1973, Diamond hopped labels again, this time to Columbia Records, where he recorded the soundtrack to Jonathan Livingston Seagull (which grossed more than the film itself). In 1974, he released the album Serenade (songs: "Longfellow Serenade", "I've Been This Way Before"). In 1976, he released Beautiful Noise, produced by The Band's Robbie Robertson.
On Thanksgiving night, 1976 Neil made an appearance at The Band's farwell concert The Last Waltz. He preformed one song "Dry Your Eyes"
In 1977, he released an album I'm Glad You're Here With Me Tonight, which included the track "You Don't Bring Me Flowers". The song was covered by Barbra Streisand on her album Songbird, which led Gary Guthrie, then Program Director at WAKY Radio (Louisville) to combine the two in a virtual duet. The popularity of the virtual duet motivated Diamond and Streisand to record the real thing, which became a very large hit in 1978.
1980s and later
A movie version of "You Don't Bring Me Flowers" was planned to star Diamond and Streisand, but plans fell through when Diamond starred in a remake of the Al Jolson classic The Jazz Singer in 1980, opposite Sir Laurence Olivier and Lucie Arnaz. Though the movie was not a blockbuster hit at the box office, the soundtrack was a hugely successful album, spawning the Top 10 singles "Love on the Rocks", "Hello Again", and "America". For his role in the film itself, Diamond became the first ever "Winner" of a Worst Actor Razzie Award, yet he was nominated for a Golden Globe Award for the same role.
Another Top 10 hit, "Heartlight", was inspired by the blockbuster 1982 movie E.T. the Extra-Terrestrial.
As noted above, Diamond's record sales slumped somewhat in the 1980s and 1990s (and his last single to make the Billboard charts was released in 1986), but he continued to make profitable tours.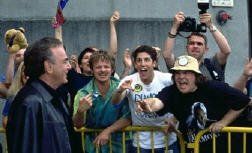 In the 1990s and 2000s, there has been a resurgence in Diamond's popularity. His song "America" was a theme song for Michael Dukakis's 1988 Presidential campaign, and later used in promotional advertisements for the 2002 Winter Olympics in Salt Lake City. "Sweet Caroline" is a popular sing-along at sporting events, most notably being the theme song for the Red Sox Nation. Urge Overkill recorded a memorable version of Diamond's "Girl, You'll Be a Woman Soon" for Quentin Tarantino's Pulp Fiction (1994). In the 2001 comedy film Saving Silverman the main characters play in a Neil Diamond cover band, and Diamond made an extended cameo appearance as himself. During this period, Will Ferrell did a recurring impersonation of Neil on Saturday Night Live, with Diamond himself appearing alongside Ferrell on his final show as a cast member in May 2002. The Finnish band HIM covered "Solitary Man" on their album And Love Said No: The Greatest Hits 1997-2004.
Diamond has always had a somewhat polarizing effect, best exemplified by the 1991 film What About Bob?. There the protagonist posits, "There are two types of people in the world: those who like Neil Diamond and those who don't." He attributes the failure of his marriage to his ex-wife's fondness for Neil Diamond.
Today, Diamond continues to tour and record. 12 Songs, recorded with producer Rick Rubin was released on November 8, 2005> in two editions: a standard 12-song release, and a special edition with two bonus tracks, including one featuring backing vocals by Brian Wilson. The album debuted at #4 on the Billboard album chart, and has received generally positive reviews; Earliwine describes the album as "inarguably Neil Diamond's best set of songs in a long, long time. 12 Songs also ended up being infamous for being one of the last albums to be pressed and released by Sony BMG with the infamous XCP digital rights management software embedded onto the disc.
On December 31, 2005 Diamond appeared on Dick Clark's New Year's Rockin Eve 2006. He will be inducted into the Long Island Music Hall of Fame in 2007.
Personal life
Diamond married school teacher Jaye Posner in 1963, and they had two children, (Marjorie and Elyn), but divorced in 1969. That same year, Diamond married Marcia Murphey; they also had two children (Jesse Michael Diamond born in 1970 and Micah Joseph Diamond, born February 14, 1978), but divorced in 1995. Diamond paid a divorce settlement to Marcia of around US$150,000,000, the fourth-most expensive divorce in history.
Diamond is a fan of Australian Rules Football team the Brisbane Lions. He stated this in newspaper interviews that appeared leading up to and during his March 2005 tour of Australia ("Dinkum Diamond barracks for Lions", Paul Stewart reporting from Los Angeles in The Sunday Mail, August 22, 2004; "Diamond lustre", The Courier Mail, March 11, 2005).
Diamond is one of a small number of performers such as Paul Simon, Pink Floyd (1975 onward) and Johnny Rivers who have their name as the copyright owner on their recordings. (Most records have the recording company as the named owner of the recording.)
This article is licensed under the GNU Free Document License
It uses material from the Wikipedia article - Neil Diamond