Petula Clark
Petula Clark

Petula Clark on the cover of her 2006 Christmas CD

Born
15 November 1932
Epsom, Surrey, England, UK
Petula Clark, CBE (born November 15, 1932), is an English singer, actress and composer, best known for her upbeat popular international hits of the 1960s. With nearly 70 million recordings sold worldwide, she is the most successful British female solo recording artist to date. She also holds the distinction of having the longest span on the international pop charts of any artist-51 years-from 1954, when "The Little Shoemaker" made the UK Top Twenty, through 2005, when her CD "L'essentiel - 20 Succes Inoubliables" charted in Belgium.
Early years
She was christened Petula Sally Olwen Clark in Epsom, Surrey. Her father, Leslie Clark, coined her first name, jokingly alleging it was a combination of the names of two former girlfriends, Pet and Ulla. As a child, she sang in the church choir; her first public performances were in a department store in suburban London, where she sang with an orchestra in the entrance hall for sweets and a gold wristwatch. In October 1942, she made her radio debut while attending a BBC broadcast with her father, hoping to send a message to an uncle stationed overseas. During an air raid, the producer requested that someone perform to settle the jittery audience, and Clark volunteered a rendition of "Mighty Lak a Rose" to an enthusiastic response in the theatre. She then repeated her performance for the broadcast audience, launching a series of some 500 appearances in programmes designed to entertain the troops. In addition to her radio work, Clark frequently toured the UK with fellow child performer Julie Andrews. She became known as "Britain's Shirley Temple" and was considered a mascot by both the RAF and the United States Army, whose troops plastered her photos on their tanks for good luck as they advanced into battle.
In 1944, while performing at London's Royal Albert Hall, Clark was discovered by film director Maurice Elvey, who cast her as an orphaned waif in his weepy war drama Medal for the General. In quick succession, she starred in Strawberry Roan, I Know Where I'm Going, London Town, and Here Come the Huggetts, the first in a series of Huggett Family films similar to the Andy Hardy movies popular in the States. Although most of the films she made in the UK during the 1940s and '50s were grade-B, she did have the opportunity to work with Anthony Newley in Vice Versa (directed by Peter Ustinov) and Alec Guinness in The Card, considered by many to be a minor classic of British cinema.
In 1946, she launched her television career with an appearance on a BBC variety show, Cabaret Cartoons, which led to her being signed to host her own afternoon series, titled simply Petula Clark. A second, Pet's Parlour, followed in 1949. In later years, she would star in This is Petula Clark (1966) and The Sound of Petula (1972-74).
In 1949, Clark branched into recording with her first release, a cover of Teresa Brewer's "Music! Music! Music!," in Australia. Her father, whose own theatrical ambitions had been thwarted by his parents, teamed with Alan A. Freeman to form their own label, Polygon Records, in order to better control her singing career. She scored a number of major hits in the UK during the 1950s, including "The Little Shoemaker" (1954), "Majorca" (1955), "Suddenly There's a Valley" (1955) and "With All My Heart" (1956). Although Clark released singles in the US as early as 1951 (the first was "Tell Me Truly" b/w "Song Of The Mermaid" on the Coral label), it would take thirteen years before the American record-buying public would discover her.
International fame
In 1958, Clark was invited to appear at the famed Olympia in Paris where, despite her misgivings, she was received with great acclaim. The following day she was summoned to the offices of Vogue Records to discuss a contract. It was there that she first met publicist Claude Wolff, to whom she was immediately attracted, and when told he would work with her if she signed with the label, she immediately agreed. Her initial French recordings were huge successes, and in 1960, she embarked on a concert tour of France and Belgium with French star Sacha Distel, who remained a close friend until his death in 2004. Gradually she moved further into the continent, recording in German, French, Italian and Spanish, and firmly establishing herself as a multi-lingual performer.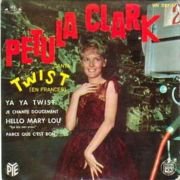 In June 1961, Clark married Wolff, first in a civil ceremony in Paris, then a religious one in her native England. Desiring to escape the strictures of child stardom imposed upon her by the British public, and anxious to escape the influence of her Svengali-like father, she relocated to France, where she and Wolff had two daughters in quick succession, Barbara Michelle and Katherine Natalie, and later a son, Patrick, who was born in 1972. While she focused on her new career in France, she continued to achieve hit records in the UK into the early 1960s, thus developing a parallel career on both sides of the Channel. Her recording of "Sailor" became her first #1 hit in the UK in 1961, while such follow-up recordings as "Romeo" and "My Friend the Sea" landed her in the British Top Ten later that year. In France, "Ya Ya Twist" (a cover of the Lee Dorsey rhythm and blues song, "Ya Ya") and "Chariot" (the original version of "I Will Follow Him") became smash hits in 1962, while German and Italian versions of her English and French recordings charted, as well. Her recordings of several Serge Gainsbourg songs were also big sellers.
In 1963 and '64, Clark's British career foundered. Composer/arranger Tony Hatch, who had been assisting her with her work for both Vogue in France and Pye Records in the UK, flew to Paris with new material he hoped would interest her, but she found none of it appealing. Desperate, he played for her a few chords of an incomplete song that had been inspired by a recent first trip to New York City, which he intended to present to The Drifters. Upon hearing the music, Clark told him that if he could write lyrics as good as the melody, she wanted to record the tune as her next single. Thus "Downtown" came into being.
The "Downtown" era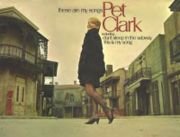 Neither Clark, who was performing in French Canada when the song first received major airplay, nor Hatch realized the impact the song would have on their respective careers. Released in four different languages in late 1964, "Downtown" was a huge success in the UK, France (in both English and French versions), Netherlands, Germany, Australia, Italy, and even Rhodesia, Japan, and India. During a visit to the Vogue offices in Paris, Warner Brothers executive oe Smith heard it and immediately acquired the rights for distribution in the States. "Downtown" went to #1 on the US charts in January 1965 and ultimately sold three million copies in America alone. It was the first of fifteen consecutive Top 40 hits Clark scored in the US, including "I Know a Place," "My Love," "A Sign of the Times," "I Couldn't Live Without Your Love," "This Is My Song" (from the Charles Chaplin film A Countess from Hong Kong), and "Don't Sleep in the Subway." The American recording industry honored her with Grammy Awards for "Best Rock & Roll Record" for "Downtown" in 1964 and for "Best Contemporary Female Vocal Performance" for "I Know a Place" in 1965. In 2003, her recording of "Downtown" was inducted into the Grammy Hall of Fame.
In 1964, Clark wrote the musical score for the French crime caper A Couteaux Tires (aka Daggers Drawn) and played a cameo as herself in the movie. Although it was only a mild success, it added a new dimension - that of film composer - to Clark's already impressive career.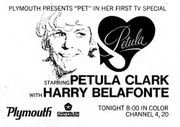 Clark's recording successes led to frequent appearances on variety programs hosted by Ed Sullivan and Dean Martin, guest shots on Hullabaloo, Shindig, The Kraft Music Hall, and The Hollywood Palace, and inclusion in musical specials such as The Best on Record and Rodgers and Hart Today.
In 1968, NBC invited her to host her own special, and in doing so she inadvertently made television history. During a duet of an anti-war song she had composed, "On the Path of Glory," with guest Harry Belafonte, Clark innocently touched his arm, much to the dismay of a representative from Chrysler, the show's sponsor, who feared the brief moment would offend Southern viewers at a time when racial conflict was still a major issue in the US. When he insisted they substitute a different take, with Clark and Belafonte standing well away from each other, she and husband Wolff, producer of the show, refused and delivered the finished program to NBC with the touch intact. It aired to high ratings and much critical acclaim, and marked the first time a man and woman of different races touched on American television.
Clark subsequently hosted two more specials, another for NBC and one for ABC, which served as a pilot for a projected weekly series. She eventually declined the offer in order to appease her children, who disliked living in Los Angeles.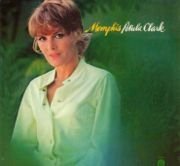 Throughout the 1960s and '70s, Clark toured in concert extensively throughout the States, and often appeared in supper clubs such as the famed Copacabana in New York City, the Ambassador Grove in Los Angeles, and the Empire Room at the Waldorf-Astoria Hotel, where she consistently broke house attendance records. During this period, she also appeared in print and radio ads for Coca Cola, television commercials for Plymouth, print and TV spots for Burlington Industries in the US, television and print ads for Chrysler Sunbeam, and print ads for Sanderson Wallpaper in the UK.
Clark revived her film career in the late 1960s, starring in two big musical films: Finian's Rainbow (1968) opposite Fred Astaire (for which she was nominated for a Best Actress Golden Globe Award), and Goodbye, Mr. Chips (1969) with Peter O'Toole. (Her last film to date is the British production Never Never Land, released in 1980.) After this, her output of hits in the States diminished markedly, although she continued to record and make television appearances into the 1970s. By the mid-1970s, she scaled back her career in order to devote more time to her family.
Herb Alpert and his A&M record label benefitted from Clark's interest in encouraging new talent. In 1968, she brought French composer/arranger Michel Colombier to the States to work as her musical director and introduced him to Alpert. (He went on to co-write Purple Rain with Prince, composed the acclaimed pop symphony Wings, and a number of soundtracks for American films.) Richard Carpenter publicly has credited her with bringing him and his sister to Alpert's attention when they performed at a premiere party for her film "Goodbye, Mr. Chips."
Post-"Downtown" era
In 1954, Clark had starred in a stage production of The Constant Nymph, but it wasn't until 1981, at the urging of her children, that she returned to legitimate theater, starring as Maria von Trapp in The Sound of Music in London's West End. Opening to rave reviews and what was then the largest advance sale in British theater history, Clark - proclaimed by Maria Von Trapp herself as "the best Maria ever" - extended her initial six-month run to thirteen to accommodate the huge demand for tickets. In 1983, she took on the title role in George Bernard Shaw's Candida. Later stage work includes Someone Like You in 1989 and 1990, for which she composed the score; Blood Brothers, in which she made her Broadway debut in 1993, followed by the US tour; and Andrew, Lord Lloyd Webber's Sunset Boulevard, appearing in both the West End and U.S. touring productions from 1995 through 2000. In 2004, she repeated her performance of Norma Desmond in a production at the Cork Opera House in the Republic of Ireland, which was later broadcast by the BBC. With more than 2500 performances, she has played the role more often than any other actress.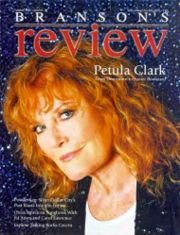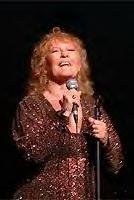 In both 1998 and 2002, Clark toured extensively throughout the UK. In 2000, she presented a self-written one-woman show, highlighting her life and career, to tremendous critical and audience acclaim at the St. Denis Theatre in Montreal. In 2004, she toured Australia and New Zealand, appeared in sell-out performances at the Hilton in Atlantic City, the Hummingbird Centre in Toronto, Humphrey's in San Diego, and the Mohegan Sun in Connecticut, and participated in a multi-performer tribute to the late Peggy Lee at the Hollywood Bowl. A 2003 concert appearance at the Olympia in Paris has been issued in both DVD and CD formats. Following another UK concert tour in early spring 2005, she appeared with Andy Williams in his Moon River Theater in Branson, Missouri for several months, and returned for another engagement in the fall of 2006, following scattered concert dates throughout the US and Canada. In November 2006, she was the subject of a BBC4 documentary entitled Petula Clark: Blue Lady and appeared in concert at the Theatre Royal Drury Lane. Two CDs, Solitude and Sunshine, a studio recording of all new material by composer Rod McKuen, and Together - Duets with Friends, a compilation including Dusty Springfield, Peggy Lee, Dean Martin, Bobby Darin, and the Everly Brothers, among others, are scheduled for release early in 2007. In March 2007, she will host the PBS special My Music: The British Beat, an overview of music's British invasion of the US in the 1960s, followed by a number of concert dates in American cities.
In 1998, Clark was honored by Queen Elizabeth II by being made a CBE (Commander of the Order of the British Empire).
Filmography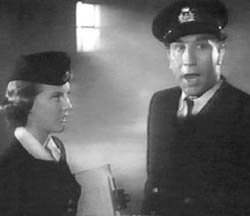 Medal for the General (1944)
Strawberry Roan (1945)
Murder in Reverse (1945)
I Know Where I'm Going (1945)
Trouble at Townsend (1946)
London Town (1946)
Vice Versa (1948)
Easy Money (1948)
Here Come the Huggetts (1948)
Vote for Huggett (1949)
The Huggetts Abroad (1949)
Don't Ever Leave Me (1949)
The Romantic Age (1949)
Dance Hall (1950)
White Corridors (1951)
Madame Louise (1951)
The Card (1952)
Made in Heaven (1952)
The Runaway Bus (1954)
The Gay Dog (1954)
The Happiness of Three Women (1954)
Track the Man Down (1955)
That Woman Opposite (1957)
6.5 Special (1958)
A Couteaux Tires (1964) (also composed score)
Finian's Rainbow (1968)
Goodbye, Mr. Chips (1969)
Droles de Zebres (1977)
Never, Never Land (1980)
US and UK Chart Albums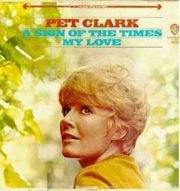 NOTE: Petula Clark released her debut album on the Nixa label in 1956, but none of her LPs charted in either the US or the UK until 1965.
Downtown (1965) US #21
I Know A Place (1965) US #42
Petula Clark Sings The World's Greatest International Hits (1965) US #129
A Sign of the Times/My Love (1966) US #68
I Couldn't Live Without Your Love (1966) UK #11 / US #43
Petula Clark's Hit Parade (1967) UK #18
Colour My World/Who Am I (1967) US #49
These Are My Songs (1967) UK #38 / US #27
The Other Man's Grass Is Always Greener (1968) UK #37 / US #93
Petula (1968) US #51
Finian's Rainbow (1968) US #90
Petula Clark's Greatest Hits, Vol. 1 (1969) US #57
Portrait Of Petula (1969) US #37
Goodbye, Mr. Chips (1969) US #164
Just Pet (1969) US #176
Memphis (1970) US #198
Warm And Tender (1971) US #178
20 All Time Greatest (1977) UK #18
The Ultimate Collection (2002) UK #18
Charted US and UK singles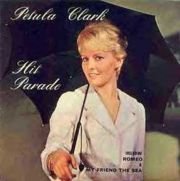 NOTE: Although Petula Clark released her first single in 1949, her first chart record was not until 1954, since the first UK pop singles chart was not published until 1952.
1954: "The Little Shoemaker" UK #7
1955: "Majorca" UK #12
1955: "Suddenly There's A Valley" UK #7
1957: "With All My Heart" UK #4
1957: "Alone (Why Must I Be Alone)" UK #8
1958: "Baby Lover" UK #12
1961: "Sailor" UK #1
1961: "Something Missing" UK #44
1961: "Romeo" UK #3
1961: "My Friend The Sea" UK #7
1962: "I'm Counting On You" UK #41
1962: "Ya Ya Twist" UK #14 (French version of "Ya Ya" by Lee Dorsey)
1963: "Casanova/Chariot" UK #39
1964: "Downtown" UK #2 / US #1 (Gold)
1965: "I Know A Place" UK #17 / US #3
1965: "You'd Better Come Home" UK #44 / US #22
1965: "Round Every Corner" UK #43 / US #21
1965: "You're The One" UK #23 (co-written by Clark; US #4 in 1965 for The Vogues)
1965: "My Love" UK #4 / US #1
1966: "A Sign Of The Times" UK #49 / US #11
1966: "I Couldn't Live Without Your Love" UK #6 / US #9 (also US Adult Contemporary #1)
1966: "Who Am I" US #21
1967: "Colour My World" UK #16 / US #16
1967: "This Is My Song" UK #1 / US #3
1967: "Don't Sleep In The Subway" UK #12 / US #5 (also US Adult Contemporary #1)
1967: "The Cat In The Window (The Bird In The Sky)" US #26
1968: "The Other Man's Grass (Is Always Greener)" UK #20 / US #31
1968: "Kiss Me Goodbye" UK #50 / US #15
1968: "Don't Give Up" US #37
1968: "American Boys" US #59
1969: "Happy Heart" US #62 (bigger hit version by Andy Williams)
1969: "Look At Mine" US #89
1969: "No One Better Than You" US #93
1971: "The Song Of My Life" UK #32
1972: "I Don't Know How To Love Him" UK #47
1972: "My Guy" US #70
1972: "The Wedding Song (There Is Love)" US #61
1982: "Natural Love" US #66
1988: "Downtown '88" UK #10
US Top Fifteen Adult Contemporary hits: "You'd Better Come Home" (#4), "My Love" (#4), "A Sign Of The Times" (#2), "I Couldn't Live Without Your Love" (#1), "Colour My World" (#10), "This Is My Song" (#2), "Don't Sleep In The Subway" (#1), "The Cat In The Window" (#9), "The Other Man's Grass" (#3), "Kiss Me Goodbye" (#2), "Don't Give Up" (#5), "Happy Heart" (#12), "Look At Mine" (#14), "My Guy" (#12), "The Wedding Song" (#9), "Loving Arms" (#12, 1974)
French singles
All of the following charted at #1:
"Romeo" (1961)
"Ya Ya Twist" (1962)
"Chariot" ("I Will Follow Him") (1962)
"Coeur Blesse" (1963)
"C'est Ma Chanson" ("This is My Song") (1967)
Other noteworthy recordings
Put Your Shoes On Lucy (1949)
House in the Sky (1949)
I'll Always Love You (1949)
Clancy Lowered the Boom (1949)
You Go To My Head (1950)
Music! Music! Music! (1950)
You Are My True Love (1950)
Mariandl (with Jimmy Young) (1951)
Where Did My Snowman Go? (1952)
The Card (1952)
Christopher Robin At Buckingham Palace (1953)
Meet Me In Battersea Park (1954)
Suddenly There's A Valley (1955)
Another Door Opens (1956)
With All My Heart (1957)
Fibbin' (1958)
Devotion (1958)
Dear Daddy (1959)
Mama's Talkin' Soft (1959), a song deleted from Gypsy prior to its Broadway opening
Cinderella Jones (1960)
Marin (Sailor) (1961)
Coeur blesse (1963)
Ceux qui ont un coeur (Anyone Who Had a Heart) (1964)
Invece no (1965)
Dans le temps (Downtown) (1965)
Sauve-moi (1977)
Mr. Orwell (1984)
Blood Brothers (International Recording) (1995)
Songs from Sunset Boulevard (1996)
Here for You (1998)
The Ultimate Collection (2002)
Kaleidoscope (2003)
Starting All Over Again (2003)
Live at the Paris Olympia (2004)
Driven by Emotion (2005)
Memphis (2005)
Together (2006), recorded as a duet with Andy Williams
Thank You for Christmas (2006)
Simple Gifts (2006)
References
Andrea Kon, This is My Song: A Biography of Petula Clark, W.H. Allen & Co. Ltd., 1983.
BBC4, Legends: Petula Clark - Blue Lady, broadcast November 19, 2006
Harry Belafonte 'Speaking Freely' Transcript. First Amendment Center. Retrieved on 2006-05-21.
This article is licensed under the GNU Free Document License
It uses material from the Wikipedia article - Petula Clark