Phil Keaggy
Phil Keaggy, born March 23, 1951, is a guitarist and vocalist. He was raised in a small farmhouse in Hubbard, Ohio with nine brothers and sisters, and began playing guitar at age ten on a Sears Silvertone guitar. In spite of the fact he is missing half of the middle finger on his right hand due to a childhood accident involving a water pump, Keaggy is considered by many to be one of the best guitarists in the world. He is frequently listed as one of the top fingerstyle guitarists by Guitar Player Magazine readers' polls.
A Brief History
Keaggy began professionally playing music in the late 1960s with drummer John Sferra. The two longtime friends formed a band called Glass Harp. A major turning point for the trio was their winning of an Ohio area's "Battle of the Bands." One of event's judges happened to be an associate of the celebrated producer Lewis Merenstein, whom he alerted to the hot young threesome. At the time, Merenstein was fresh from producing albums for many successful artists including The Spencer Davis Group, Turley Richards and Van Morrison's Moondance (Merenstein did as well produce Astral Week) and had just been voted Producer of the Year by Rolling Stone. Merenstein was persuaded into flying down from New York to see what the fuss was all about. Upon hearing the band perform, so inspired was Merenstein that Decca Records signed Glass Harp to a multi-record deal. A short time later, the band found itself in New York's Greenwich Village recording its first album at the late Jimi Hendrix' Electric Ladyland Studio with Lewis Merenstein as producer. As a Decca Records artist, the band began to open for such artists as Iron Butterfly, Yes, Traffic, and Chicago. At one point, future James Gang guitarist Joe Walsh was being considered to join New Hudson Exit (the band Phil Keaggy was in prior to the formation of Glass Harp) but the other members of the band felt Walsh's style was too dynamic. Years later, Amboy Dukes guitar player Ted Nugent was quoted as saying "I don't know what happened to that Phil Keaggy, he could have saved the world with his guitar" in Guitar Player Magazine.
In February 1970, Phil's mother was involved in a fatal car accident. He was heavily involved in drugs at the time, but his sister Ellen took the time to tell him about finding peace in Jesus, and Phil began a new life as a Christian.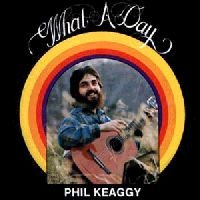 Keaggy left Glass Harp in 1972 and released his first solo album the following year entitled What A Day. Keaggy married his wife Bernadette the following summer. He then took a brief vacation from recording on his own and only toured in support of other artists like Love Song, 2nd Chapter of Acts, Paul Clark, and Nancy Honeytree. Keaggy returned to the studio in 1976 with Love Broke Thru which included his version of the Randy Stonehill/Keith Green/Todd Fishkind classic song of the same name, which at Keith Green's insistance was the first released recording of the song. The summer of 1977 saw Keaggy on an eighteen-city tour of the western United States with 2nd Chapter of Acts and "a band called David". This was captured in the live triple album How the West Was One. The only release of the Phil Keaggy Band also occurred in 1977, Emerging. The Phil Keaggy Band consisted of Keaggy, Lynn Nichols, Phil Madeira, Dan Cunningham and Terry Andersen. In 1978, Keaggy released his first critically acclaimed instrumental album entitled Master and the Musician.
The Keaggy family then moved to Leawood, Missouri, a suburb of Kansas City, MO in August of 1979. Their first daughter, Alicia, was born there in March of 1980. The Keaggy's left Leawood in 1983 and settled in Costa Mesa, California. Their second daughter, Olivia, was born on Valentine's Day, 1984, and in 1987, the Keaggy's celebrated the birth of their son, Ian. Keaggy was signed to the Contemporary Christian music label Sparrow Records in the 1980s, where he released a string of albums including Town to Town, Ph'lip Side, and Play Thru Me. In 1988, Keaggy would team up with Stonehill, Paul McCartney and the Wings drummer Joe English, singer Margaret Becker, and others for the Compassion All Star Band's album One by One.
In 1988, Keaggy won his first Dove Award for his second instrumental project, The Wind and the Wheat. Keaggy's second Dove Award came in 1992 for his Celtic-influenced Beyond Nature. From 1998 to 2001, Keaggy has dominated the "Instrumental Record" category in the Dove Awards winning awards for Invention, Acoustic Sketches, Majesty and Wonder, and Lights of Madrid.
In 1989, Keaggy teamed up with Randy Stonehill, Russ Taff, Derri Daugherty, Mark Heard, Steve Taylor, Rick Cua and other musicians to create Phil Keaggy and Sunday's Child: a tribute of sorts to 1960s bands like The Beatles. That same year, Keaggy would hit the road with Stonehill for a tour by The Keaggy/Stonehill Band, which included Swirling Eddie David Raven on drums and Daniel Amos bassist Tim Chandler. In the fall of 1989 the Keaggy's relocated once again, leaving the sunny shores and crowded freeways of southern California behind and moved to Nashville, Tennessee where they reside currently. A few years later, Keaggy would perform at former Beatle Paul McCartney's sister-in-law's wedding. Keaggy had met Laura Eastman, sister of Linda McCartney, while the former worked at CBN. After the wedding, Keaggy fulfilled a lifelong dream by jamming with McCartney in a bedroom at the Eastman family estate, site of the wedding.
Keaggy followd Sunday's Child with two more all-out rock and blues records, 1990's Find Me In These Fields and in 1993, Crimson and Blue, a bluesy rock album that included a cover of Van Morrison's "When Will I Ever Learn to Live in God". That album was also remixed and reissued as Blue, with the added Badfinger cover "Baby Blue". Once again, an impressive list of musicians joined Keaggy for these releases, including Steve Taylor, Rick Cua, Phil Madeira, Charlie Peacock, Sam Bush, John Mark Painter of Fleming and John, Ashley Cleveland, Jimmy Abegg, and fellow 1970s Keaggy Band members Lynn Nichols and Phil Madeira. Keaggy enlisted his old friend John Sferra of Glass Harp for the tour that followed. (The tour also featured Wade Jaynes from Chagall Guevara on bass and Phil Madeira on Hammond B-3 organ.)
Glass Harp reformed around 2001 and released a new album titled "Hourglass" in 2003.
As of 2006, Keaggy continues to record and tour regularly.
The Question: "Who is the best guitarist in the world?"
Rumors have followed Keaggy for years that Jimi Hendrix had supposedly named him as his answer to the question Johnny Carson asked him, "who is the best guitarist in the world?" while making an appearance on The Tonight Show. Another version of the story goes something like, "Jimi, how does it feel to be the world's greatest guitar player?" To which supposedly Jimi replied, "I don't know, you'll have to ask Phil Keaggy!" which according to some was from an interview in Rolling Stone or Guitar Player Magazine. Sometimes, the rumor is that it was Eric Clapton, or that it was on the Dick Cavett show. A recent variant has it that it was Eddie Van Halen on Letterman who was asked the question. During live performances, Keaggy has mentioned it but personally thinks the rumors are untrue. However, due to the fact that many of these shows did not keep archives of many of their early shows, it is nearly impossible to either confirm or disprove the rumors completely. Some fans have claimed to have seen the show in question, or read the interview but to date, no one has presented a tape, a magazine article or any kind of evidence to confirm it. Phil was asked this at one of his guitar clinics he held in California a few years ago and his answer was simply, "I don't think there is anything to it at all. I doubt that Jimi ever heard me play as he had died in England before I recorded with Glass Harp at his Electric Ladyland Studios in New York City. Someone told me years ago that when asked that question he replied, "Phil Keaggy is the shortest guitarist in the world," which is more believable." Snopes article regarding the "Tonight Show" appearance.
Discography
What A Day, 1973 debut album
Love Broke Thru, 1976 album
Emerging Phil Keaggy Band, 1977 album - reissued on CD in 2000 as Re-Emerging minus 1 song & plus 4 new ones
Song In The Air Phil Keaggy and Glass Harp, 1977 album
The Master and the Musician, 1978 instrumental album - later reissued on CD with bonus track
Ph'lip Side, 1980 album - released in 2 versions (1 song different & in different sequence)
Town to Town, 1981 album
Play Thru Me, 1982 album
Underground, 1983 album - later reissued on CD with bonus tracks & different sequence
Getting Closer, 1985 album - later reissued on CD with bonus tracks & different sequence
Way Back Home, (original) 1986 album
The Wind and the Wheat, 1987 instrumental album
Phil Keaggy and Sunday's Child, 1988 album
Find Me In These Fields, 1990 album
Beyond Nature, 1992 instrumental album
Revelator, 1993 EP - companion to Crimson And Blue
Crimson And Blue, 1993 album
Blue, 1994 album - several tracks from Crimson And Blue, 1 from Revelator, and 2 new ones
Way Back Home, (reissue) 1994 album - heavily revised version of 1986 album
True Believer, 1995 album
220, 1996 instrumental album
Acoustic Sketches, 1996 instrumental album
On The Fly, 1997 instrumental album
Phil Keaggy 1998 album
Premium Jams, 1999 instrumental album
Music to Paint By: Still Life, 1999 instrumental album
Music to Paint By: Electric Blue, 1999 instrumental album
Music to Paint By: Splash, 1999 instrumental album
Music to Paint By: Brushstrokes, 1999 instrumental album
Majesty and Wonder, 1999 Christmas album
An Angel's Christmas, 1999 Christmas album
Inseperable, 2000 album (released as a single disc & as a slightly longer 2-disc "collector's edition")
Uncle Duke, 2000 album
Zion, 2000 album
Lights of Madrid, 2000 album
Cinemascapes, 2001 instrumental album
Hymnsongs, 2002 album
Freehand (Acoustic Sketches II), 2003 instrumental album
Special Occasions, 2003 album
It's Personal, 2004 album
The Uncle Duke Project, 2005 album (re-issue of Uncle Duke, with bonus material)
Jammed!, 2006 album (selections and remixes from Premium Jams, with bonus material)
Live Albums
How the West Was One (with 2nd Chapter of Acts and "a band called David") 1977
Together Live! (with Randy Stonehill) 2005
Compilations
Prime Cuts, 1987 UK only issue "Best of" album from 1980-85 albums
The Best of Keaggy: The Early Years 1973-1978, 1989 album (unauthorized release!)
Time, Volume 1, 1995 "best of" album (including some previously unreleased tracks)
Time, Volume 2, 1995 "best of" album (including some previously unreleased tracks)
History Makers, 2003 compilation
With Wes King and Scott Dente
Invention Keaggy/King/Dente, 1997 album
On various artist discs
Strong Hand of Love, tribute to Mark Heard, 1994
Orphans of God, tribute to Mark Heard, 1996
Making God Smile: A Tribute to Beach Boy Brian Wilson, Various Artists, 2002 album
Video Projects
Philly Live!, 2004 DVD
Together Live!, 2005 DVD
This article is licensed under the GNU Free Document License
It uses material from the Wikipedia article - Phil Keaggy