Ricky Nelson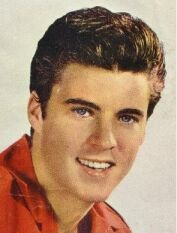 Eric Hilliard "Ricky" Nelson, alternately Rick Nelson (May 8, 1940 - December 31, 1985), was one of the first American teen idols.
Born in Teaneck, New Jersey, he was the younger son of Ozzie Nelson, the leader of a big band, and Harriet Hilliard Nelson, the band's singer. Along with brother David Nelson, the family starred in the long-running radio and television series The Adventures of Ozzie & Harriet from 1944 to 1966; until 1949, for a time the sons were played on radio by professional actors.
Ricky began a rock and roll music career in 1957. He recorded his debut single, the Fats Domino song "I'm Walkin'," seeking to impress a date who was an Elvis Presley fan - Ricky's first song was a hit reaching #4 on the charts. Soon, each television show ended with a musical performance by "Ricky".
From 1957 to 1962, Ricky had 30 top 40 hits, more than any other artist at the time except Elvis. Many of Ricky's early records where double hits with both the A side and the B side hitting the billboard charts.
While Ricky preferred "Rockabilly" and uptempo rockers like "Hello Mary Lou", "It's Late", "Stood Up" and "Be-Bop Baby", his smooth, calm voice made him a natural to sing ballads. He had major success with "Travelin' Man", "Poor Little Fool", "Young World", "Lonesome Town" and "Teenage Idol", which clearly could have been about Ricky himself at the time. 1964's "For You" would be his last top 40 hit until 1970 when he recorded Bob Dylan's "She Belongs To Me" with the Stone Canyon Band. In 1972, he would hit the top 40 one last time with "Garden Party", a song he wrote in disgust after a Madison Square Garden audience booed him when he tried playing new songs instead of just his old hits form the 50's and 60's.
He was featured in the 1959 movie, "Rio Bravo", with John Wayne and Dean Martin. He celebrated his 18th birthday while filming the movie in Tucson, Arizona.
In April 1963, he married Kristin Harmon in what Life magazine referred to as "The Wedding of the Year."
Despite the promotional aspects of his career, it is clear that Nelson knew and loved music and was a credible performer before he became a teen idol, largely due to his parents' musical background.
He was elected to the Rock and Roll Hall of Fame in 1987, and also to the Rockabilly Hall of Fame.
Unlike many teen idols of the time, Nelson showed his personal taste in working with strong musicians, including James Burton, Joe Maphis, and Johnny and Dorsey Burnette. In the late 1950s and early 1960s, Nelson was one of the highest-selling singers, second only to Elvis Presley. His single "Poor Little Fool" was in the #1 position on Billboard Magazine's first Hot 100 chart on August 4, 1958. In 1963, Nelson signed a 20-year contract with Decca Records, but he had no further major hits after 1964's "For You". In the mid-1960s, he began to move towards country music. "Garden Party" 1972, a self-penned country song bemoaning his fans' unwillingness to hear him play new music, was a moderate success, but he never regained his career's momentum.
Ricky Nelson also appeared in films such as Rio Bravo (1959) and Love and Kisses (1965).
By the late 70's, Ricky's life was in shambles. His wife had divorced him and taken their 4 children. He wasn't making records, and when he played live at all, it was in very small venues. In 1985, he joined a nostalgia rock tour of England. It was a major success and revived some interst in Ricky. He tried to duplicate that effect in the United States and began a tour of the South. While on that tour, he died in a plane crash in De Kalb, Texas in 1985 on his way to a New Year's Eve concert in Dallas, Texas, and was interred in the Forest Lawn, Hollywood Hills Cemetery> in Los Angeles, California. The last song he sung on stage before dying in a plane crash was Buddy Holly's "Rave On".
The crash was probably due to mechanical problems. An examination indicated the fire originated in the right hand side of the aft cabin area at or near the floor line. The ignition and fuel sources could not be determined although many believe that the most likely cause was a defective cabin heater. The pilot indicated that the crew tried to turn on the cabin heater repeatedly shortly before the fire occurred but that it failed to respond. After the fire, the access panel to the heater compartment was found unlatched. The theory is supported by records which showed that DC-3's in general, and this aircraft in particular, had a previous history of problems with the cabin heaters.
Ricky Nelson has a Star on the Hollywood Walk of Fame at 1515 Vine Street.
His twin sons, Gunnar and Matthew Nelson, also were teen idols, performing as Nelson, and his daughter Tracy Nelson is an actress and cancer survivor. Youngest son, Sam Nelson, is an actor and singer.
In commemoration of the 20th anniversary of his passing, PBS-TV will air a 1 hour documentary "Ricky Nelson Sings" featuring interviews with his children, James Burton and Kris Kristofferson.
Bob Dylan, in his recent autobiography Chronicles Vol. 1, writes about Ricky's influence on his music.
On December 27, 2005 EMI Music released a Ricky Nelson's Greatest Hits with 25 songs. It peaked at #56 on the Billboard 200 album chart.
Singles discography
"Poor Little Fool" (1958)
"Lonesome Town" (1958)
"It's Late" (1959)
"Travelin' Man" (1961)
"Hello Mary Lou" (1961)
"Young World" (1961)
"Garden Party" (1972)
This article is licensed under the GNU Free Document License
It uses material from the Wikipedia article - Ricky Nelson