Simon and Garfunkel
Simon and Garfunkel are an American popular music duo comprising Paul Simon and Arthur "Art" Garfunkel. Simon and Garfunkel were among the most popular recording artists of the 1960s, and are best known for their songs "The Sound of Silence," "Mrs. Robinson", and "Bridge Over Troubled Water". They have received several Grammys and are inductees of the Rock and Roll Hall of Fame. The asteroid 91287 Simon-Garfunkel was named in their honour
Early history
Paul Simon and Art Garfunkel grew up in the same Forest Hills neighborhood just blocks away from one another and were classmates at Forest Hills High School in New York City. Close friends since childhood, they began performing together in their junior year as Tom and Jerry, with Simon as Jerry Landis (Whose last name he borrowed from a girl he had been dating) and Garfunkel as Tom Graph (so called because he was fond of tracking ["graphing"] hits on the pop charts). They began writing their own songs in 1957 as high school seniors, and soon after made their first professional recording, "Hey, Schoolgirl," for Sid Prosen of Big Records. Released on 45 and 78 rpm records, the song - backed with "Dancin' Wild" - sold 100,000 copies, hitting #49 on the Billboard charts. Both Simon and Garfunkel have acknowledged the tremendous impact of The Everly Brothers on their style, and many of their early songs (including "Hey, Schoolgirl") bear the mark of this influence.
They later performed their hit on American Bandstand, right after Jerry Lee Lewis' "Great Balls of Fire".
Subsequent efforts in 1958 did not reach near their initial success, and after high school the duo went to separate colleges, with Simon enrolling at Queens College and Garfunkel at Columbia University.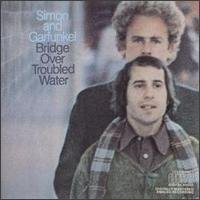 In 1963 they found prominence as part of the same New York City folk music scene as Bob Dylan, with close harmony singing inspired by the Everly Brothers, combined with Simon's acoustic guitar playing. Simon, who had finished college but dropped out of Brooklyn Law School, had - like Garfunkel - developed an interest in the folk scene. Simon showed Garfunkel a few songs that he had written in the folk style: "Sparrow", "Bleecker Street", and "He Was My Brother" - which was later dedicated to Andrew Goodman, a friend of both Simon and Garfunkel, and a classmate of Simon's at Queens College, who was one of three civil rights workers murdered in Neshoba County, Mississippi, on June 21, 1964.
These three efforts were among five original songs by Simon included on their first album for Columbia Records, Wednesday Morning, 3 A.M., which initially flopped upon its release on October 19, 1964.
First breakup
Shortly after finishing recording, the duo effectively split and Simon moved to England, where he recorded his solo The Paul Simon Song Book in 1965. Recorded on three different dates in June and July at Levy's Studio, London, and featuring only Simon and his guitar, it is a refreshing souvenir of the early folk work of Paul Simon. The album was supposedly deleted about 1979 at Simon's request, but was re-introduced on CD with bonus tracks in 2004. During this period in London he also collaborated on a number of songs with Bruce Woodley of The Seekers, including "Red Rubber Ball," later a US #2 hit for The Cyrkle, Simon's first charting record outside of his collaboration with Garfunkel.
While Simon was in England that summer of 1965, radio stations around Cocoa Beach and Gainesville, Florida, began to receive requests for a song from the album Wednesday Morning, 3 A.M. called "The Sound of Silence". The song also began to receive radio airplay in Boston. Seizing the chance, the duo's U.S. producer, Tom Wilson, who had heard The Byrds' early folk records, dubbed electric guitars, bass and drums into original "The Sound of Silence" track, and released it as a single, backed with "We've Got a Groovy Thing Goin'". The dubbing turned folk into folk-rock, the debut of a new genre for the Top 40, much to Simon's surprise.
In September 1965, Simon first learned that it had entered the pop charts while he was about to go on stage in a Danish folk club. The song hit number 1 on the pop charts by New Year's Day, 1966.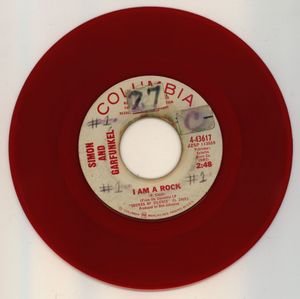 Simon immediately returned to the United States and the group re-formed for the second time to record more tracks in a similar style, though neither approved of what Wilson had done with "The Sound of Silence." The result was a sequence of folk-rock records, which have endured as well as any in the genre. Simon's lyrics were often insightful and picturesque, but leavened by a consistent dry humour. On January 17, 1966, the duo released the album Sounds of Silence, which - helped by the title track's success - hit #21, while Wednesday Morning, 3 A.M. was re-released and reached #30. Among the tracks on The Paul Simon Song Book that were rerecorded with electric backing for Sounds of Silence were "I Am A Rock" (which as a single reached US #3 in the summer of 1966), "Leaves That Are Green", "April Come She Will", "A Most Peculiar Man", and "Kathy's Song".
Further hit singles came, including "Scarborough Fair/Canticle", based on a traditional English ballad with an original counter-melody, and "Homeward Bound" (later US #5), about life on the road while Simon was touring in England in 1965. The song is reputed to have been written on a platform at Widnes railway station, and has been commemorated as such with a plaque. Other evidence, however, has surfaced indicating that it was actually written at the now-disused Ditton railway station.
More tracks from The Paul Simon Song Book were included with recent compositions on their October 10, 1966 album Parsley, Sage, Rosemary and Thyme, which refined the folk-rock sound hastily released on Sounds of Silence.
In early 1967, Pickwick Records, which had a reputation as a low-quality label, decided that it would capitalize on the duo's newfound fame by releasing an album entitled The Hit Sound of Simon & Garfunkel. This album consisted of ten tracks recorded from the late 1950s and early 1960s while the duo still called themselves Tom & Jerry, including their hit "Hey, Schoolgirl," and its B-side, "Dancin' Wild". Simon & Garfunkel then sued Pickwick because the company was presenting the music as recently-recorded material, not as songs written and released over five years earlier. Soon afterwards, Pickwick withdrew The Hit Sound of Simon & Garfunkel from the market.
That same year, Simon and Garfunkel contributed heavily to the soundtrack to Mike Nichols' film The Graduate, which was released on January 21, 1968, and instantly rose to #1 as an album. According to a Variety (Magazine) article by Peter Bart in the May 15th, 2005 issue; Nichols had become obsessed with Simon & Garfunkel's music while shooting the film. Larry Turman, his producer, made a deal for Simon to write three new songs for the movie. By the time they were nearly finished editing the film, Simon had only written one new song. Nichols begged him for more but Simon, who was touring constantly, told him he didn't have the time. He did play him a few notes of a new song he had been working on; "It's not for the movie... it's a song about times past -- about Mrs. Roosevelt and Joe DiMaggio and stuff." Nichols advised Simon, "It's now about Mrs. Robinson, not Mrs. Roosevelt." The album was also one of the first soundtracks ever to feature contemporary pop hits.
As their albums became progressively more adventurous, The Graduate Original Soundtrack was immediately followed in March 1968 at the top of the charts by Bookends, which dealt with increasingly complex themes of old age and loss. It features the top-25 hit singles "A Hazy Shade Of Winter", "Fakin' It", "At The Zoo", "America", and a full version of "Mrs. Robinson", the classic from the Graduate soundtrack, which became #1 as a single.
At the March 1969 Grammy Awards, "Mrs. Robinson" was named Record of the Year, while Simon was also honored with the Grammy for Best Original Score for a Motion Picture.
Second breakup
By 1969, the duo's success began to take its toll. Garfunkel had begun to pursue a career in acting and was featured in the role of Nately in Nichols's film adaptation of the novel Catch-22. Garfunkel's filming leave conflicted with and subsequently delayed the recording of the duo's next album, and to add insult to injury, the part in the film which had initially been promised to Simon was completely cut from the script.
The duo's deteriorating personal relationship continued into their late 1969 tour, which featured performances at Miami University in Oxford, Ohio on November 11 and Carbondale, Illinois on November 8, recordings of which are supposedly widely bootlegged. Video footage of the tour was shown on their controversial November 30 television special Songs Of America, which TV sponsors refused to endorse because of its distinct anti-Vietnam War message.
Their long-delayed final album, Bridge Over Troubled Water, was at last released on January 26, 1970. Its title track, featuring Garfunkel's soaring vocals, was a massive hit and one of the best-selling records of the decade, staying #1 on the charts for six weeks and on the charts for far longer. The album includes three other top-twenty hits: "El Condor Pasa" (US #18), "Cecilia" (US #4), and "The Boxer" - which, finished in 1968, hit #7 on the charts the following year - as well as a live recording of the Everly Brothers' "Bye Bye, Love" from a 1969 tour concert in Ames, Iowa.
At the subsequent March 1971, Grammy Awards, the album and single were named Album and Record of The Year, respectively, and also won the awards for Best Engineered Record, Best Contemporary Song, Song of the Year, and Best Arrangement Accompanying Vocalists. Their 1972 Greatest Hits album peaked at #5 on US charts.
The duo finally split in 1970 to much chagrin but little surprise, and the two men went their separate ways. Simon continued writing and went on to a very successful solo music career, recording several classic albums, including There Goes Rhymin' Simon (1973), Still Crazy After All These Years (1975), and his most highly celebrated solo album, Graceland (1986). Garfunkel split his time between acting and recording solo and collaboration albums, to mixed reviews. His most critical acclaimed album was the 1978 effort Watermark, almost all of the songs for which were penned by acclaimed songwriter Jimmy Webb.
Subsequent careers
Simon and Garfunkel's first reunion since their second breakup was at a June 1972 benefit concert at Madison Square Garden for presidential candidate George McGovern. On October 18, 1975 the duo made an appearance on NBC's Saturday Night Live. They performed "The Boxer" and "Scarborough Fair" together. Several still photos were shown during the show of the pair visiting their childhood neighborhood in Queens in New York City. That fall also saw the release of their first new single since the breakup, "My Little Town". The song made the top ten and appeared on both of their solo albums released that year.
The duo has reunited off and on since then, most notably for a free concert in New York's Central Park on September 19, 1981, which attracted a crowd of around 500,000 people and was televised and subsequently released on LP, CD, VHS, LD, and DVD. The success of the 1981 concert prompted the duo to go on a world tour in 1982 (Europe and Japan) and 1983 (The U.S. and Canada).
Simon and Garfunkel even completed their first new studio album in more than a decade, entitled Think Too Much, featuring some songs previewed on their recent jaunt. Alas, creative differences (coupled with the record company's negative reaction to the decidedly un-Simon- and-Garfunkel-like album) led Simon to remove Garfunkel's vocals and rework the songs himself. The solo album Hearts and Bones was the result, and a long period of estrangement for the duo followed.
Their next public appearance was in 1990, when the two performed at a ceremony for their induction into the Rock and Roll Hall of Fame. Simon and Garfunkel appeared together in 1993 for 21 sold out concerts in New York, with half of the show being Paul Simon solo with a band and the other half Simon and Garfunkel. Later the same year they did some charity concerts, including the Bridge School Concerts.
In July 2002, Columbia Legacy issued a previously unreleased live recording of a Simon and Garfunkel concert, Live In New York City, 1967. It features an almost-complete recording of a performance given by the duo at Philharmonic Hall, the Lincoln Center in New York City on January 22, 1967.
On February 23, 2003, Simon and Garfunkel reunited to perform in public for the first time since 1993, singing "The Sound Of Silence" as the opening act of the Grammy Awards. Before the show, the duo was presented with the Grammy Lifetime Achievement Award, honoring their musical contributions over the past four and a half decades.
The good feelings generated by their appearance on the Grammys led to another thaw in their relationship. Soon, Simon and Garfunkel launched a two-month long reunion tour of the United States (and Toronto, Canada), which ran from October 16 to December 21, 2003. Entitled "Old Friends," their first tour in over twenty years included forty shows in twenty-eight cities and featured special guests The Everly Brothers.
The success of the first Old Friends tour led to an encore in June and July 2004 with over 25 shows, this time also in Europe. In July 2004, they completed the tour with a flourish, with a finale at the Colosseum in Rome before an audience which, according to news media reports, was probably even larger than the audience at the famous Central Park concert.
A live CD and DVD from their "Old Friends" tour was released in late 2004. It featured a "new" studio duo song, "Citizen of the Planet", ironically the only song from the rejected 1983 reunion album that did not originally feature Garfunkel's vocal participation.
Discography
Wednesday Morning, 3 A.M. (1964)
Sounds of Silence (1966)
Parsley, Sage, Rosemary and Thyme (1966)
The Graduate Original Soundtrack (1967)
Bookends (1968)
Bridge Over Troubled Water (1970)
Simon and Garfunkel's Greatest Hits (1972)
The Concert in Central Park (1982)
Old Friends (1997)
The Best of Simon and Garfunkel (1999)
The Columbia Studio Recordings (1964-1970) (2001)
Live From New York City, 1967 (2002)
The Essential Simon and Garfunkel (2003)
Old Friends: Live on Stage (2004)
And many other anthologies and compilations.
Singles
Year
Title
Label
Chart positions
Album
U.S. Hot 100
UK Charts
1957
"Hey Schoolgirl"/"Dancin' Wild" [a]
Big 613 [45 & 78] and King 5167
#49
-
1958
"Our Song"/"Two Teen-Agers" [a]
Big 616
-
-
1958
"That-s My Story"/"Don't Say Goodbye" [a]
Big 618 and Hunt 319
-
-
1959
"Baby Talk"/"I'm Gonna Get Married" [a] [c]
Bell 120
-
-
1959
"Baby Talk"/"Thank You Pretty Baby" [a] [b] [d]
Gala GSP 806
-
-
1959
"I'm Lonesome"/"Looking At You" [a]
Ember 1094
-
-
1962
"Surrender, Please Surrender"/"Fightin' Mad" [a]
ABC-Paramount 10363
-
-
1963
"I'm Lonesome"/"Looking At You" [a] [b]
Pye International 25202
-
-
1965
"The Sounds of Silence"/"We've Got A Groovey Thing Goin'"
Columbia 4-43396
#1
-
Wednesday Morning, 3 A.M. and Sounds of Silence
1966
"Homeward Bound"/"Leaves That Are Green"
Columbia 4-43511
#5
#9
Sounds of Silence for B-side (and A-side in the UK); Parsley, Sage, Rosemary and Thyme for A-side in the US
1966
"I Am A Rock"/"Flowers Never Bend With The Rainfall"
Columbia 4-43617
#3
#17
Sounds of Silence (A); Parsley, Sage, Rosemary and Thyme (B)
1966
"The Dangling Conversation"/"The Big Bright Green Pleasure Machine"
Columbia 4-43728
#25
-
Parsley, Sage, Rosemary & Thyme
1966
"A Hazy Shade of Winter"/"For Emily, Whenever I May Find Her"
Columbia 4-43873
#13
-
Bookends/I> (A); Parsley, Sage, Rosemary and Thyme (B)
1967
"At The Zoo"/"The 59th Street Bridge Song (Feelin' Groovy)"
Columbia 4-44046
#16
-
Bookends/I> (A); Parsley, Sage, Rosemary and Thyme (B)
1967
"Fakin' It"/"You Don't Know Where Your Interest Lies"
Columbia 4-44232
#23
-
Bookends (A only)
1967
"Scarborough Fair/Canticle"/"April Come She Will"
Columbia 4-44465
#11
-
Parsley, Sage, Rosemary & Thyme (A); Sounds of Silence (B)
1968
"Mrs. Robinson"/"Old Friends/Bookends"
Columbia 4-44511
#1
#7
Bookends
1969
"The Boxer"/"Baby Driver"
Columbia 4-44785
#7
#10
Bridge Over Troubled Water (A only)
1969
"Baby Driver" (mono)/"Baby Driver" (stereo)
Columbia 4-44785
-
-
Bridge Over Troubled Water (B only)
1970
"Bridge Over Troubled Water"/"Keep The Customer Satisfied"
Columbia 4-45079
#1
#1
Bridge Over Troubled Water
1970
"Cecilia"/"The Only Living Boy In New York"
Columbia 4-45133
#4
-
Bridge Over Troubled Water
1970
"El Condor Pasa (If I Could)"/"Why Don't You Write Me"
Columbia 4-45237
#18
-
Bridge Over Troubled Water
1972
"For Emily, Whenever I May Find Her"
Columbia 4-45663
#53
-
Simon and Garfunkel's Greatest Hits
1972
"America"
Columbia 4-45663
#97
-
Simon and Garfunkel's Greatest Hits
1975
"My Little Town" (mono/stereo) [e]
Columbia 3-10230
#9
-
1982
"Wake Up Little Susie"/"Me And Julio Down By The Schoolyard"
Warner Bros. WBS 50053
#27
-
The Concert in Central Park
[a] as Tom & Jerry
[b] UK release
[c] B-side by Ronnie Lawrence
[d] B-side by Paul Sheldon
[e] also released as an EP backed by "Rag Doll" (Garfunkel solo) and "You're Kind" (Simon solo)
This article is licensed under the GNU Free Document License
It uses material from the Wikipedia article - Simon and Garfunkel