Steve Cropper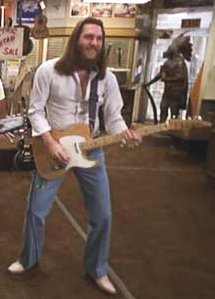 Steve "The Colonel" Cropper (born Stephen Lee Cropper, on October 21, 1941) is a guitarist, songwriter, producer, and soul musician. On June 9, 2005, Cropper was inducted into the Songwriters' Hall of Fame alongside Bill Withers, Robert B. Sherman, Richard M. Sherman, John Fogerty, David Porter and Isaac Hayes.
Cropper was born on a farm outside Dora, Missouri. Nine years later, his family moved to Memphis, Tennessee, where he heard sounds and kinds of music he never heard in Missouri. At age ten, he strummed his brother-in-law's Gibson and was hooked. Receiving his first guitar at age fourteen, Cropper soaked up the musical melting pot in Memphis. His influences ranged from The Bill Doggett Band's Billy Butler to Chet Atkins to Jimmy Reed to jazz guitarist Tal Farlow and, of course, Chuck Berry. His hero was Lowman Pauling of Memphis's The Five Royales.
Cropper and guitarist Charlie Freeman formed (as a tip of the hat to Pauling's band) The Royal Spades, who eventually became The Mar-Keys. The Mar-Keys was a play on the marquee outside of Stax (at the time, called Satellite Records). Cropper, ever astute, figured, "People 'round here don't speak French", hence the spelling. The band's inexperienced sax player Charles "Packy" Axton's mother Estelle and uncle Jim Stewart owned Satellite, and eventually The Mar-Keys began playing on sessions and had a hit single of their own with 1961's "Last Night". Also in the band were producer/songwriter Don Nix and future legends, bassist Donald "Duck" Dunn and trumpeter Wayne Jackson.
Besides being impressed with the young guitarist's playing, the then Stax Records president Jim Stewart saw a business sense, professionalism, and maturity in Cropper beyond his years. When American Records founder Chips Moman left Stax, the young Cropper was given the keys to the studio, which he opened everyday; he became the company's A & R man, and shared engineering duties with Stewart. A founding member of Booker T. & the MGs, Stax's mighty house band, Cropper, along with Booker T. Jones on organ and piano, bassist Dunn, and drummer Al Jackson, Jr., went on to play several popular works. His fiery leads and tight rhythm work with the MGs, and his tasteful work on hundreds of records, most notably his work with Otis Redding, was unmistakable and would make him a legend.
The MGs, as instrumental artists, worked because they "wrote sounds". Music professor and author of the book Soulsville U.S.A.: The Story Of Stax Records, Rob Bowman, quotes Booker T. Jones as saying, "We were writing sounds too, especially Steve. He's very sound-conscious, and he gets a lot of sounds out of a Telecaster without changing any settings - just by using his fingers, his picks, and his amps". Together, with Jones on a B-3 organ, they could get so many sounds going that they sounded like a much larger group.
Besides his influential and constantly improving work with the MGs, Cropper co-wrote "Knock On Wood" with Eddie Floyd, "In the Midnight Hour" with Wilson Pickett, and "(Sittin' On) The Dock Of the Bay" with Otis Redding. His partnership with Redding was particularly fruitful. "(Sittin' On) The Dock Of the Bay", alone, has been played over six million times, making it the sixth most played song of all time (and the ASCAP catalog's second most). In 1969, Cropper released his first of three and only solo album for Stax, With a Little Help From My Friends.
Cropper, however, became increasingly unhappy at Stax as things began to change and eventually decided to leave. The company had already lost Otis Redding in a plane crash, stars Sam & Dave (through Stax's distribution deal breakup with Atlantic), and an also disgruntled Booker T. Jones. Now, they were losing their most successful producer, and along with partners David Porter and Isaac Hayes, their most important songwriter.
He formed TMI (Trans-Maximus) with Jerry Williams and former Mar-Key Ronnie Stoots. There he lent his guitar and producing skills to Jeff Beck, Tower Of Power, John Prine, and Jose Feliciano. Also during this time, he played on Ringo Starr's 1973 album Ringo and the following year's Goodnight Vienna, and John Lennon asked him to play on his Rock 'n' Roll album. By 1975, Cropper had closed shop and moved to Los Angeles, where Booker T. Jones was also living. They called up Al Jackson and Duck Dunn, still at Stax, and decided to reform the MGs. But Jackson, who Cropper called "the greatest drummer to ever walk the earth", was murdered in his Memphis home.
In the late seventies, Cropper and Dunn became members of (The Band's drummer) Levon Helm's RCO All Stars, and then they went on to lead The Blues Brothers Band with drummer and Stax alumnus Willie Hall. Cropper lived in L.A. for the next thirteen years before moving to Nashville.
In 1996, he was named the second greatest guitar player of all time, behind Jimi Hendrix, by Britain's Mojo magazine. When asked what he thought of Cropper, the guitarist at number four, The Rolling Stones' Keith Richards, said "Perfect, man".
Persondata
NAME
Cropper, Steve
SHORT DESCRIPTION
American guitarist
DATE OF BIRTH
October 21, 1941
PLACE OF BIRTH
Dora, Missouri
This article is licensed under the GNU Free Document License
It uses material from the Wikipedia article - Steve Cropper