The Ventures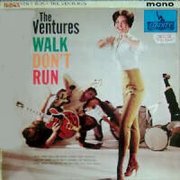 The Ventures are a rock instrumental band formed in 1958, by Don Wilson and Bob Bogle, two Seattle masonry workers.
History
Initially calling themselves "The Versatones", they played small clubs and beer bars in the Northwest. In 1959 they recorded and released two vocal tunes, "The Real McCoy" and "Cookies and Coke", but neither record charted. They met and recruited Nokie Edwards as bass player, and recorded "Walk Don't Run" with Bogle on lead, Wilson on rhythm, Edwards on bass, and Skip Moore on drums. They approached several record companies, none of whom showed any interest in signing them. With support from Don Wilson's mother, Josie, they started their own record company, "Blue Horizon Records". They self-produced the 45 RPM single of "Walk Don't Run" and promoted it themselves.
They were successful in getting a local Seattle DJ, Pat O'Day, to use the song as a news "kicker" (lead-in). Bob Reisdorf, owner of Dolton Records, heard it on the radio, contacted and signed The Ventures, and the rest is history. Walk Don't Run climbed to #2 for a week on the Billboard Top 100, in September 1960.
The story behind their selection of Walk Don't Run provides some insight into the distinction between technical virtuousity, versus the essential elements of a wildly successful Pop-Music hit. Bob Bogle, original lead guitarist, cites Chet Atkins as one of his early influences. Bogle bought the Chet Atkins LP, Hi Fi Guitar which featured Atkins' fingerstyle rendition of a song originally written by the great jazz guitarist, Johnny Smith. Within Atkins' elaborate and laid-back delivery of "Walk Don't Run", Bogle found inspiration. He stated years later there was no way his "pedestrian" guitar skills would allow him to play it the same as Chet Atkins did, so he and Wilson worked out a highly energized, very much simplified arrangement, and a Rock & Roll Classic was born. Another Chet Atkins inspired guitarist, Steve Howe of Yes covered "Walk Don't Run" on his 1998 album Quantum Guitar.
The Ventures enjoyed their greatest popularity and success in the U.S. in the 1960s but they have continued to perform and record up to the present (2006). With over 110 million albums sold worldwide, the group remains the best selling instrumental rock group of all time. 37 Ventures albums charted in the U.S., and six of their singles made it into the Top 40. By the mid-1970's the group had nearly no audience in America, but they continued to have an enormous influence on pop culture globally. The Ventures became one of the most popular world-wide groups ever and are still the most popular American rock group in Japan. They produced dozens of albums exclusively for the Japanese and European markets and have regularly toured Japan from the 60's up through and including 2005. They have influenced pop music in Japan far more than any other Western artist. A recent Japanese pop music poll listed "Ginza Lights" as the most popular song of all time; it was composed and recorded for their 1966 LP, Go With The Ventures.
Among their achievements in America, there were times when The Ventures had as many as six LP's in the Billboard Top 100 at the same time. Additionally, The Ventures released a series of instructional LP's, entitled Play Guitar with The Ventures and Play Bass with The Ventures. There were perhaps 8 to 10 LP's released in this series, and every one charted in the Billboard Top 100 Album Sales - a commercial achievement previously unheard of in an instructional LP.
During the 1960's a California guitar manufacturer, Mosrite, developed and marketed a uniquely styled futuristic-looking electric guitar, as "The Ventures Model Mosrite". The originals have become so popular among vintage instrument collectors that several companies internationally are still manufacturing copies that in some cases are nearly impossible to spot as fake.
"The Ventures" was originally just Bogle and Wilson, up to their recording of "Walk Don't Run". For the recording session, they needed to be a full combo. The lack of bass and drums during their first two years, caused them to develop a unique rhythm-heavy style, in which Wilson, (rhythm guitar), tried to be "an orchestra on six strings". It was this strong interplay between lead and rhythm guitar which gave The Ventures their trademark "rhythm-heavy" sound, one which captivated huge audiences. When they added Nokie Edwards on bass, and Howie Johnson on drums, right after being signed by Dolton Records, they maintained this strong lead/rhythm interplay, so that even with Johnson's very much jazz/swing- influenced drum style, their sound carried an aggressive "drive" that was very influential on the sound of guitar-based combos that followed.
The Ventures lineup underwent some key changes, which caused them to become a stronger performing unit, which undoubtedly enhanced their "staying power" beyond the typically short shelflife for a charting rock band of the 1960's. The band's career has spanned 45 years and is still going strong in Japan.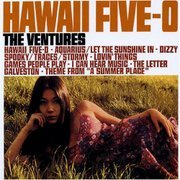 The lineup of Bogle, Wilson, Edwards and Johnson remained intact until 1962, or roughly the release of their 8th album. Around this time, Edwards, (a very talented guitarist in his own right), suggested that Bogle's lead guitar abilities were being stretched, and that they were in essence wasting Edwards' talents by keeping him on bass. Bogle agreed, and rapidly learned the bass parts to all their songs, allowing Edwards to take over the lead guitar chores, which helped modernize the sound of the band, and helped to keep them current-sounding into the late 1960's.
At the same time, Johnson was injured in an auto crash, which caused irreversible spinal damage. Under doctor's orders, he quit the band. Bogle and Wilson already knew Mel Taylor, house drummer at The Palomino, in North Hollywood, (the same venue where they would play numerous shows during their resurgence in the 1980's). Taylor had performed as drummer on the Bobby "Boris" Pickett hit, "Monster Mash", The Hollywood Argyles' "Alley Oop", and "The Lonely Bull", by Herb Alpert and The Tijuana Brass. Taylor was known for a very aggressive, hard-hitting style of drumming. They invited him to some recording sessions, which led to him becoming a permanent member of The Ventures.
The combination of Edwards on lead guitar, Taylor on drums, Bogle on bass, and Wilson on rhythm guitar, created what many fans feel was The Ventures at their very best. This lineup remained unchanged until Edwards left the band in 1968, to be replaced by Gerry McGee. Edwards came back in 1973, and remained with them until 1984, although he has toured and gigged with them dozens of times in the subsequent 22 years. Drummer Mel Taylor remained the heartbeat of The Ventures until cancer took his life in 1996. His spot has since been filled by his son, Leon Taylor.
The Ventures pioneered the use of special effects on such songs as "2000 Pound Bee" (1963), in which guitarist Nokie Edwards employed a fuzz distortion pedal, pre-dating the "King of Fuzz Guitar", Davie Allan (The Arrows), by at least three years. The landmark album, Ventures in Space (1963), was their first use of the then-new Mosrite Ventures Model guitars.
Some of The Ventures' best-remembered tunes are "Walk, Don't Run" (1960), "Perfidia" and "Lullaby of the Leaves" (1961), a cover version of the Tornadoes' #1 hit "Telstar" (1963), "Slaughter On Tenth Avenue" (1964), "Walk Don't Run '64" (1964), and "Hawaii Five-O" (1969). But their commercial fortunes in the US sharply declined after 1967 due to changing musical trends. In the late 1970's and into the 1980's, a resurgence of interest in surf music led to some in the Punk/New Wave audience rediscovering the band, which revived The Ventures as a viable live attraction in America. The Go-Go's, a highly popular all-female band of the era, wrote and dedicated "Surfin' And Spyin'" to The Ventures. The Ventures recorded their own version and continue to perform the song in current-day shows. Their career was given another rejuvenating shot in the arm by the further resurgence of interest in surf music brought on by Quentin Tarantino's use of their original "Surf Rider" and several other classic surf songs in the soundtrack of the hit movie Pulp Fiction.
Given their tremendous cultural influence, both in the US and Japan, as well as their ranking as 6th biggest album-selling pop act of the 1960's, Ventures fans and supporters have been campaigning for the past several years to have The Ventures inducted into the Rock and Roll Hall of Fame in Cleveland, Ohio.
This article is licensed under the GNU Free Document License
It uses material from the Wikipedia article - The Ventures