Twila Paris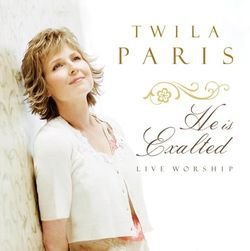 Twila Paris Wright (born December 28, 1958 in Fort Worth, Texas) is a Contemporary Christian> songwriter and singer.
As of 2004, she has released eighteen albums. Thirty-two of her singles have reached the Number 1 position on Christian radio national airplay charts. She has received five GMA Music Awards, and three American Songwriter Awards.
Many of her songs are used as worship music in evangelical Christian churches. Her songs have been included in many hymnals. Staple songs in Paris' career include "He Is Exalted", "God Is In Control", "We Bow Down" and "The Warrior Is A Child".
Her uncle, Loren Cunningham was the founder of Youth With a Mission, while her family started Ecclesia College in Elm Springs, AR, where her brother Oren Paris III is president and father Oren Paris II is chancellor.
She and her husband Jack Wright have one child, Jack Paris Wright, born April 29, 2001. They live in Elm Springs, Arkansas. She is also the author of three books.
Although widely associated for much of her career with Star Song Records, EMI switched her over to the Sparrow label in 1996, before her contract ended after 2003. In 2005, she switched to Michael Coleman's INO label.
Discography
He Is Exalted: Live Worship (2005)
House of Worship (2003)
Greatest Hits: Time & Again (2001)
Bedtime Prayers (2001)
True North (1999)
Perenial (1998)
Where I Stand (1996)
Early Years (1996)
The Time is Now (1995)
Celebrate the Gift (1994)
Beyond a Dream (1993)
The Heart That Knows You (1992)
Sanctuary (1991)
Cry for the Desert (1990)
It's the Thought (1989)
For Every Heart (1988)
Same Girl (1987)
Kingdom Seekers (1985)
The Warrior Is a Child (1984)
Keeping My Eyes On You (1982)
Knowing You're Around (1981)
Books
Bedtime Prayers and Lullabies (2001)
Perennial: Mediations For The Seasons Of Life (1998)
In This Sanctuary: An Invitation To Worship The Savior (1992) (co-authored with Dr. Robert Webber)
This article is licensed under the GNU Free Document License
It uses material from the Wikipedia article - Twila Paris