We Five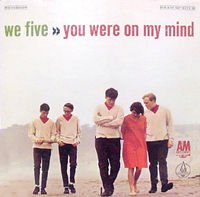 We Five was a 1960s folk rock musical group based in San Francisco, California. Their best-known hit was 1965's "You Were on My Mind", which reached #1 on the Cashbox chart and #2 in Billboard. The group was together for five years, releasing four albums.
Personnel
The ensemble played acoustic and electric guitar and sang vocal harmonies. The original line-up included:
Jerry Burgan (Tenor, 6-String Acoustical Guitar)
Michael Stewart (Baritone-Bass, 5-String Banjo, 6-String Acoustic Guitar, 9-String Amplified Guitar)
Beverly Bivens (Low Tenor to High Soprano)
Peter Fullerton (Tenor, Acoustic & Fender Bass)
Bob Jones (Baritone-Tenor, 6-String Electric Jazz Guitar, 12-String Electric Guitar).
Later editions included Frank Denson, who went on to write music for television shows including Magnum, P.I., Tales of the Gold Monkey, and Blossom.
Trivia
We Five were the first group to record songs live in San Francisco, and were also the first commercial artist to record music for Coca-Cola. They were Grammy-nominated as Best New Artist of 1965 but were beaten by The Beatles.
Michael Stewart's son, Jamie Stewart, is the vocalist for experimental indie band Xiu Xiu.
Discography
You Were On My Mind (1965) A&M LP-111/SP-4111
Make Someone Happy (1967) A&M LP-138/SP-4138
The Return of We Five (1969) A&M SP-4168
Catch the Wind (1970) Vault 136
This article is licensed under the GNU Free Document License
It uses material from the Wikipedia article - We Five